Who Makes Walmart Everstart Batteries?
Everstart batteries are among the best and most easily accessible batteries on the market. They are very cost-effective and made with safe materials. This Walmart battery brand is your go-to if you are looking for efficiency without breaking your bank. 
Who Manufactures Everstart Batteries for Walmart?
You can trust that a reputable manufacturing company put together Everstart batteries because of their reliability. The makers of these batteries are none other than Clarios LLC. Clarios LLC is the foremost automotive battery manufacturing company in America; they are the makers behind many other batteries such as Kirkland's batteries, Optima batteries, Autocraft batteries, Diehard batteries, Champion batteries, and a good number more.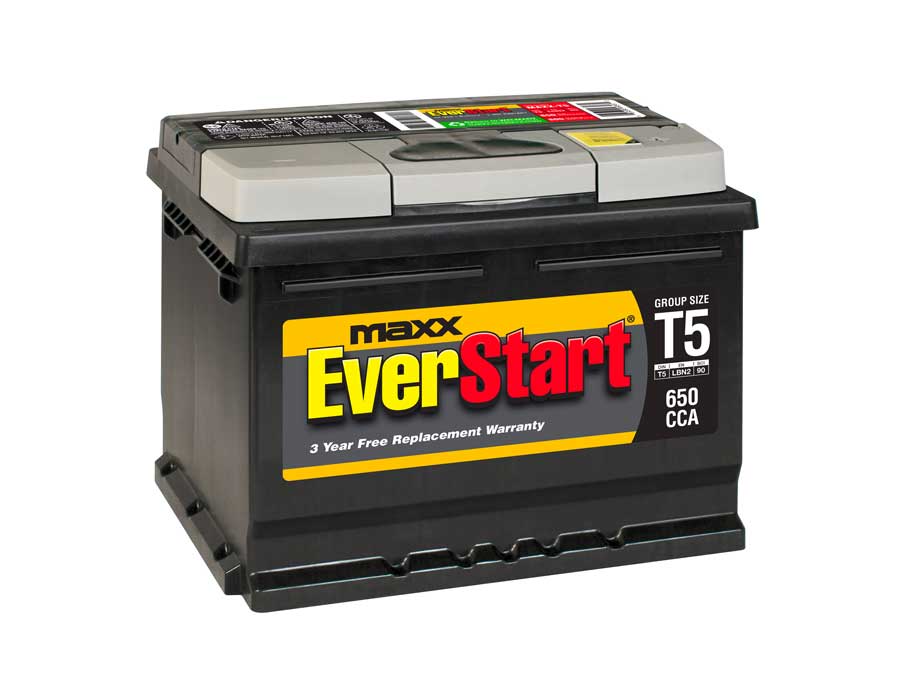 About Clarios LLC
Clarios LLC was formerly Johnson Controls, an American-Irish company founded in 1885 as Johnsons Electric Service Company by Warren S. Johnson. The company at the time focused on manufacturing, installing, and servicing automatic temperature regulation systems for buildings. The founder, Johnson, had received a patent for the first electric room thermostat in 1883. This invention birthed the Johnson Electric Service company. 
The company was later renamed Johnson Controls in 1974 and acquired a couple of companies like Globe Union- a battery company, Hoover Universal, and Ferro manufacturing. 
The company continued to expand and grow, then later in 2019, Brookfield Business acquired Johnsons Controls and renamed it Clarios LLC.  
Are Everstart Batteries a Good Choice?
Everstart batteries make a suitable power source for your vehicle for a relatively inexpensive battery. There are different battery lines from the brand that caters to a range of vehicles such as SUVs, golf carts, marine engines, etc. The AGM batteries are an excellent choice because they work well in low temperatures and require no maintenance. When it comes to the battery life, you can use them for up to four years, and they come with a good warranty. They are lightweight and designed to resist corrosion. 
Everstart Battery Types
As earlier stated, they have batteries that cater to different vehicles and needs. Here are the different battery categories available:
These deep-cycle lead-acid batteries are built for both small and large-sized marine vehicles. They are designed to give quick energy bursts and support steady current streams for marine vehicles. You can use them to power jet skis, motorboats, speedboats, etc.
This line of starter deep cycle batteries is designed to supply recreational vehicles such as camper vans, motor homes, RVs, quad bikes, etc. 
This line presents so many options to choose from- up to fifteen. They require little maintenance like watering occasionally and are an excellent choice for snowmobiles, ATVs, jet skis, golf carts, etc.  
Lawn and Garden batteries:
You can trust Everstart batteries to give your garden engines and even tractors efficient power. They come in both big and small sizes for machines ranging from large farm vehicles to mowers and sweepers. 
You can never go wrong with Everstart batteries for your car. They are durable and do not require much charge to function well.  
What are the Best Everstart Batteries on the Market?
When a brand has so many good options to choose from, it can be quite a task to conclude. However, these top three batteries are considered the best of the clan.
Everstart Maxx lead-acid battery, group 24
Thanks to the conveniently located top post, they are straightforward to install for easy connection of positive and negative terminals. The cold-cranking amps of 750 make it fantastic for cold temperature regions. They are suitable for a wide range of vehicles and very cost-effective too. 
Pros
Long lifespan.
Great for cold regions, with cold-cranking amps of 750.
Easy to install.
Designed to give a quick start.
36-months free replacement warranty.
Cons
You cannot return it by mail.
Everstart value lead-acid automotive battery, group 24F
They function excellently in low temperatures with cold-cranking amps of 585. They also have the top post design for easy installation and terminal connections. 
Pros
Cold-cranking amps of 585.
Easy to install and connect.
Relatively affordable.
Durable and reliable for long distances.
36-months free replacement warranty.
Cons
Everstart plus lead-acid automotive battery group 65
This battery is versatile and can start your car in almost any weather condition, even while raining. It has a cold cranking amp of 750 and can withstand damage caused by low temperatures. 
Pros
Good starting power.
CCA of 750.
Resilient in adverse weather conditions.
Durable and efficient.
24-months free replacement warranty.
Cons
Cannot be returned by mail.
How to Maintain Car Batteries
Thanks to innovation and technology, most of these batteries are low maintenance. Here are some tips for maintaining your car battery:
Clean the surface regularly to keep away dirt and grime.
Avoid opportunity charging; that is, avoid charging it too frequently for short periods.
Ensure your battery is not exposed to heat.
For wet-cell batteries, make sure to check the electrolyte levels and refill when necessary constantly.
Try to keep a high level of charge consistently.
Monitor your vehicle's alternating voltage.
Get rid of corrosion using battery spray or a DIY mixture of baking soda and water.
Keep the terminals clean. You coat them with grease to prevent further corrosion.
Group size
Group size is the industry standard measurement of battery size, considering its length, height, and width. Sometimes, polarity is also factored in. Polarity is simply the position of the negative and positive terminals on a battery. When choosing a car battery, it is crucial to keep in mind the group size that is compatible with your car. The wrong size can give you a hard time during installation, and the battery might be too loosely placed in the tray.
Here are the different group sizes for Everstart car batteries:
Standard top post battery group- the sizes in this category include 24, 24F, 25, 34, 35, 51R, 52, 58, 58R, 59, 65. These are the most common post positioning. The negative and positive terminals protrude from the top of the battery for easy connection.
Side post battery group- the sizes in this category include 70, 74, 75, and 78. As the name implies, they have the cable ends screwed to the side of the battery. The design is meant to reduce the likelihood of corrosion. 
Recessed top post battery group- this positioning is found in sizes 41, 42, 47, 48, and 49. The posts are located in small recesses at the corners. 
How to Determine the Group Size Fit For Your Car
The easy way to do this is to check your car manufacturer's manual. It would most likely be enlisted with the specs. You can also reference a previous battery and check for the group size printed on it. This can give you information on the CCA and reserve charge too. Another alternative is to ask an expert from the auto store. 
FAQs
Where can I buy Everstart batteries?
You can only get an Everstart battery from Walmart, although some models are also available on Amazon. 
What is a deep cycle battery?
Deep cycle batteries are lead-acid batteries designed to sustain power over a long period. It can keep running until it is about 70% discharged. The name deep cycle comes from its level of discharge, unlike other batteries that provide short bursts of energy for a short period. Deep cycle batteries are applied in marine engines, recreational vehicles, forklifts, golf carts, and off-grid renewable energy. 
Will Walmart install my car battery?
You can get free battery testing and installation at your local Walmart store. 
How do I dispose of my old battery?
Simply go to your local Walmart store and submit your old battery for recycling. 
How do I claim the warranty?
The warranty period varies for different battery types. 
Everstart value power battery- 12-month free replacement warranty
Everstart value battery- 12-month free replacement warranty
Everstart plus battery- 24-month free replacement warranty
Everstart Maxx battery- 36-month free replacement warranty plus 24 months prorated replacement warranty 
Take your battery to the nearby Walmart automotive center to claim the warranty. The battery will be tested to determine if the claim is valid. 
How do I know my battery needs to be replaced?
The following are signs of a dying battery:
Dimming headlights.
Slow engine cranking. 
Clicking sounds on the ignition. 
Difficulty with starting the car.
Having to hit gas often to start the car.
Swollen battery case.
Can I install my car battery myself?
Installing a car battery is quite an easy task. You have to ensure safety precautions and follow due process. For safety, wear gloves and goggles to protect yourself from spills, have a fire extinguisher nearby and avoid touching conductive areas with metal bodies. 
Steps for battery installation:
Clean out the battery tray and let dry.
Align the battery to the proper position, matching the terminal placements.
Gently let down the battery into the tray and connect the terminals; ensure to connect the positive terminals first and then the negative terminal.
Cover up the battery and start the car.