Who Makes Valucraft Batteries? Are They Good?
Valucraft batteries may not be as popular as the top-tier batteries, but they are still a brand many people use. Valucraft batteries are lead-acid batteries that may be used in various applications and have several useful features. Valucraft batteries have a high Cranking Power, which means they provide long-term energy storage in any climate. They deliver on their promises with a large Reserve Capacity and Cold Cranking Amps.
Valucraft battery is a brand owned by Autozone and a few other battery brands as part of its premier line. However, Valucraft batteries are manufactured by Johnson Controls, which is also the manufacturer of several battery brands.
About the manufacturer
Johnson Controls International, sometimes known as "Clarios, headquartered in Cork, Ireland, is a worldwide firm. Johnson Controls employs millions of employees at plants all over the world. This battery company has a presence on six continents, with around 105,000 individuals working for them worldwide. They are the primary manufacturer of Valucraft's battery and that of several battery brands around the world.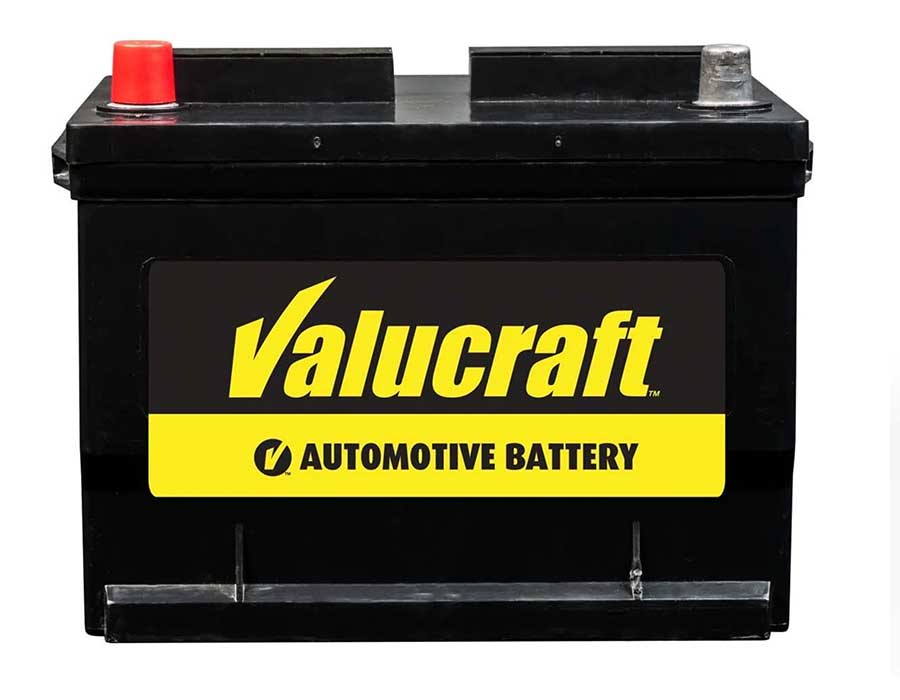 Are Valucraft Batteries good?
Valucraft Batteries are excellent batteries manufactured by one of the best manufacturers in the world. Moreover, they have some good qualities, which are listed below:
High Cranking Power: Valucraft batteries have a high CCA rating, ensuring that your car starts every time. They have a massive 690 amps of starting power, so you'll have enough energy to keep searching for that perfect engine sound.
Offer High-Value at Low-Cost: Valucraft batteries are among the most affordable battery brands. That does not, however, imply that they are bad performers. On the contrary, Johnson Controls, one of the best battery manufacturers in the world, is responsible for these batteries. Moreover, with average frequent use, Valucraft batteries also provide adequate starting power.
Consistent performance: The brand's patented grid technology ensures that the batteries are long-lasting and efficient, providing the ideal combination of power and performance. In addition, it can withstand corrosion in any weather or situation that could cause your battery's life to shorten unexpectedly.
Requires minimum maintenance: Valucraft batteries can last a long time with little care and maintenance. These batteries make use of a technology known as LifeGrid. Cutting-edge LifeGrid technology ensures continuous power and increased longevity in every situation. 
Flat Handle and Ergonomic Design: The Valucraft series has a fold-flat handle ergonomically built for easy transit and installation. It makes installing and dismounting the batteries simple, making them easy to transport.
Features of Valucraft Batteries
Reserve Capacity: All Valucraft batteries offer reserve capacities or extra minutes, which can add up quickly when you're on the road. Even if your battery's charge is depleted, you won't have to worry about it running out of power while driving. Every Valucraft battery has a reserved time of 110 minutes. It means you can use the battery for another 110 minutes before it needs to be recharged. 
High CCA: Valucraft batteries feature a greater CCA (cold-cranking amperage) rating. The capacity of a battery to start at low temperatures is measured in CCA. At 0°C, most 12-volt batteries can generate enough energy in 30 seconds. A battery with a higher CCA has a better chance of providing the engine with the necessary starting power. Valucraft batteries typically have a CCA rating of 690 amperes. These batteries can offer your automobile the required power during the start-up process.
Proprietary Grid Tech: Valucraft batteries have LifeGrid, a proprietary grid technology that ensures battery stability. As a result, your Valucraft battery will last a long time. It implies that these batteries are likewise long-lasting.
Efficient and long-lasting: Valucraft batteries provide the ideal balance of performance and power. These batteries are corrosion-resistant regardless of the environment or weather conditions in which they are utilized. Valucraft batteries also have a long service life and can be used for various purposes before needing to be replaced. As one of the most long-lasting vehicle batteries, you'll be able to get the most out of it and save any extra expenses in the future.
What is the life expectancy of a Valucraft battery?
The lifespan of a car battery is difficult to predict because there are so many variables to consider, such as automobile maintenance, climate, vehicle type, etc. A car battery's average lifespan is roughly three years, but some car owners may be able to extend it for a few more years. The key to extending the life of a car battery is appropriate maintenance and early detection of breakdown.
What are the best Valucraft batteries available?
below are some of the best available Valucraft batteries:
Valucraft Battery 34DT-VL Group Size 34 690 CCA
The battery has a Reserve Capacity of 110 minutes and a Cold Cranking Amp of 690. For its price, this is quite impressive. Valucraft batteries deliver a lot of power when starting your car. Even though they are not utilized for lengthy cycles, they offer a lot. It has a universal flat handle that makes carrying and placing them easier. It comes with a one-year manufacturer's warranty but can last for 4-5 years with proper maintenance.
Valucraft Battery 65-VL Group Size 65 650 CCA
It gives the best output a battery can at this price range, thanks to the LifeGrid technology. This battery has a CCA of 650, making it ideal for cold climates. In addition, there is enough Reserve Capacity to get your vehicle started on the first try. For convenient transport and installation, there is also a foldable flat handle. It comes with a one-year manufacturer's warranty.
Valucraft Battery 35-VL Group Size 35 520 CCA
The Valucraft 35-L battery is an excellent supplement to any Group 35 battery. This battery has enough juice to start a car with only a few accessories. This battery is the one to get if you have a vehicle you use frequently and don't want to spend a lot of money on a starter battery. It can jump-start any car on a chilly winter morning thanks to its 520 Cold Cranking Amp. Throughout the battery's life, you'll get the best output. It is built in the Valucrafts signature style with a foldable handle for easier service and transportation. Every time you start the car, the LifeGrid technology provides the best output. It comes with a one-year manufacturer's warranty.
Conclusion
Finding the correct battery for your power needs might be challenging with many brands and types on the market. The efficiency, capacity, and general quality of batteries differ. You can get the best battery that fits your needs properly if you understand the distinctive features. Valucraft batteries may not be able to match the performance of top-tier batteries, but they certainly aren't the worst. They also have unique features that are generally only seen in higher-priced batteries. They have a high CCA rating as well. It implies that even on cold mornings, you will be able to start your vehicle with ease.