Who Makes Rural King Batteries? Warranty Info Explained
Rural King batteries are a popular choice for various applications, including cars, trucks, lawnmowers, and golf carts. Many consumers wonder who is behind the manufacturing of these batteries and the warranties offered. In this introduction, we'll reveal which company is responsible for making Rural King batteries and provide a brief overview of their warranty information.
Exide Technologies, LLC, an American battery manufacturing company, is known to manufacture Rural King batteries. Established in 1888, Exide has grown to become one of the leading battery manufacturers in the USA. As for the warranties, Rural King offers different warranty periods for different types of batteries, ensuring customer satisfaction and peace of mind.
Knowing who makes Rural King batteries and understanding their warranty offerings is essential when choosing a battery for your needs. With a reputable manufacturer like Exide and various warranty options, you can feel confident in your choice of a Rural King battery.
Key Takeaways
Exide Technologies, LLC manufactures Rural King batteries.
Rural King offers different warranty periods for different battery types.
Understanding the manufacturer and warranty information aids in choosing the right battery.
Who Manufactures Rural King Batteries?
Branding and Production
Rural King batteries are manufactured by Exide Technologies, LLC, an American company with over 130 years of experience in the battery manufacturing industry. Exide is known for producing high-quality lead-acid batteries, both for automotive and industrial applications. When you purchase a Rural King battery, you can be confident it is made with Exide's expertise and commitment to quality.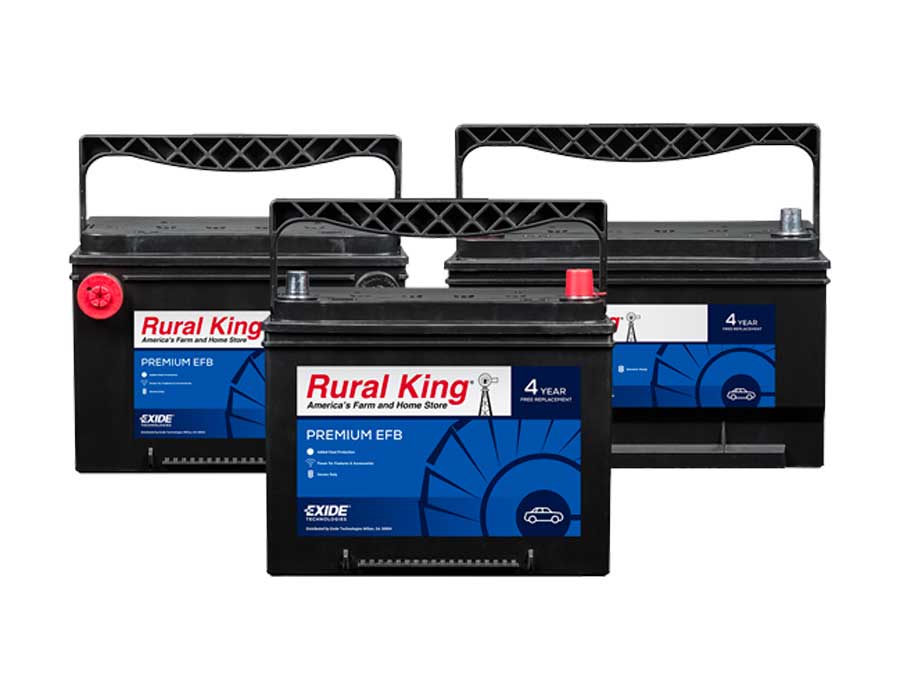 Location of Production Facilities
Exide Technologies has production facilities across the United States, which allows them to produce and distribute their battery products effectively and efficiently. By relying on a trusted manufacturer like Exide, Rural King ensures that their customers receive reliable, high-quality batteries to meet their needs.
Here are some key features of Rural King batteries:
Manufactured by Exide Technologies, LLC
High-quality lead-acid batteries
Suitable for automotive and industrial applications
Rural King Warranties: An Overview
Warranty Inclusion with Purchase
When you purchase a Rural King battery, you receive warranty coverage depending on the specific battery type you choose. The general warranty coverage is a 30-day defect and damage warranty on most of the brand's batteries. Rural King batteries also come with a 24-month free replacement in some cases, and certain models have a 72-month limited warranty. Make sure to confirm the warranty information on the battery you purchase.
How to Claim a Warranty
To claim a warranty for your Rural King battery, you should follow these steps:
Keep your original purchase receipt, as this may be required for warranty claims.
Return the faulty battery to the Rural King store where it was purchased.
Provide any requested documentation, such as your original purchase receipt and battery identification information.
The store will assess your battery, and if it falls under the warranty terms and conditions, they will either repair or replace the battery accordingly.
Terms and Conditions
The terms and conditions of your Rural King battery warranty may vary depending on the specific model and type you purchased. However, some general conditions apply:
The warranty only covers manufacturing defects and damage within the specified warranty period.
The warranty does not cover misuse, abuse, neglect, or improper installation of the battery.
Rural King has the option to either repair or replace the battery under warranty coverage, depending on the discretion of the store.
The warranty may be void if the battery is subjected to unauthorized repairs, or if the serial number has been altered or removed.
Remember to carefully read and understand the warranty terms and conditions of the specific Rural King battery you purchase to ensure you are fully covered in case of any issues.
The Types of Rural King Batteries available
Rural King offers different kinds of batteries with outstanding performance. Some of them are listed below:
Rural King Automotive batteries: batteries are available in various sizes and can handle heavy electrical demands. They are inexpensive batteries that are vibration resistant, do not need maintenance, and have a free replacement policy for 24 months.
Classic batteries: it is an impressive battery that comes with 650 CCA. This battery offers free replacement for the first 12 months, and depending on how it is used, it can be up to 60 months.
Commercial series batteries offer improved vibration resistance, reduced acid washing, and have 821 CCA. The commercial series are built to last and have a 12-month free replacement and a limited warranty of 24 months. 
Performance batteries:  is maintenance-free with features that ensure vehicle starter protection from vibration damage. The battery operates maximumly for up to 24 months on warranty and a 12 months replacement policy.
Golf cart batteries: Rural King does not offer many options for golf cart batteries. However, they offer one of the best batteries for a golf cart that can provide up to 20 hours' power when fully charged. It has an RC terminal that allows it to handle high amperage and is one device that can meet your needs.
Lawn Mower Batteries: there is a range of lawnmower batteries users can pick from as they have a new flat-top design for easy installation. These batteries do not break or lose acid. It has a calcium coating that prevents corrosion in wet conditions, making it maintenance-free.
Marine Batteries: these batteries can be used in various settings like at home or businesses as it is a powerful, long-lasting device. It offers outstanding performance with 27 deep cycle cells and comes with free replacement for 12 months after being purchased.
How to choose the correct Rural King battery for your automobile
You can use ways to select the correct battery, which may lead to prolonged battery usage. Here are some of the ways to choose the right battery:
Battery type: knowing the type of battery you want to use is crucial. Many Rural king batteries are available, like the AGM batteries that use SureLife Graphite Technology to ensure the highest energy capacity.
Cold-cranking amps: the CCA will determine how well your battery operates in extreme conditions. Any battery with 700 and above CCA is good.
Reserve capacity: the reserve capacity is essential as it measures the battery power. It indicates how long your battery will discharge under normal conditions.
Known Issues and Customer Reviews
Rural King batteries are often praised for their durability, long-lasting performance, and ability to withstand harsh weather conditions. However, it's important to take a closer look at any known issues and customer reviews to gain a better understanding of potential drawbacks and common customer experiences.
One issue you may encounter with Rural King batteries is a shorter-than-expected lifespan. Some users have reported that their Rural King batteries didn't last as long as they hoped, especially considering the competitive pricing of these batteries. It's essential to keep in mind that battery performance can often vary depending on factors such as usage, driving habits, and vehicle type.
Quality control can also be a concern with some users. While many customers have positive experiences with Rural King batteries, a few people have reported receiving batteries that were either defective or damaged upon arrival. It's crucial to inspect your battery after purchase and make use of Rural King's 30-day defect and damage warranty if necessary.
Regarding customer reviews, opinions on Rural King batteries tend to be mixed. Many users report satisfaction with these batteries, especially when considering their affordability and performance. However, some customers have expressed disappointment with the shorter lifespan or initial quality of their batteries.
It's essential to weigh both the positive and negative aspects of Rural King batteries when deciding whether they are suitable for your needs. Remember to consider your unique driving habits, vehicle type, and desired performance in making your choice.