Who makes Duralast Batteries?
Batteries are critical components in the workings of a vehicle, and Duralast batteries are a great choice, with several incredible features. Duralast batteries are known for their high quality and consistency. This brand is a reputable battery brand that has gone through testing and has shown excellent results. In addition, they have a long line of batteries that comes at different costs to fit your needs. However, who makes Duralast batteries?
Duralast batteries are a product of an auto part company called Autozone; however, their batteries are manufactured by three different brands. They are Clarios (formerly manufactured by Johnson's controls), Exide, and East Penn manufacturing company.
Duralast batteries are popular among most customers because of their reasonable prices and superior performance. In terms of efficiency and performance, Duralast Batteries exceed several regular batteries. In addition, the battery is of good quality and provides consistent power for your vehicle.
About the Manufacturers
Clarios
Clarios occupies a leadership position in automotive battery technologies as the company produces one-third of the overall output of the automotive sector each year and keeps investigating solutions to fulfill the rapidly growing energy storage needs. The company relies on insights, applied engineering, and outstanding product design to create smart battery technologies. As a result, they are making a power cell that can meet the needs of the escalating automotive requirements. Clarios has decades of experience which helps in designing, manufacturing, and recycling batteries to help produce a more efficient and sustainable energy storage solution. In addition, they make their batteries so that up to 99 percent of the materials used can be retrieved and repurposed in new batteries. The company has over 16000 employees, 56 facilities around the globe, and over a century of expertise. The headquarters is in Glendale, Wisconsin.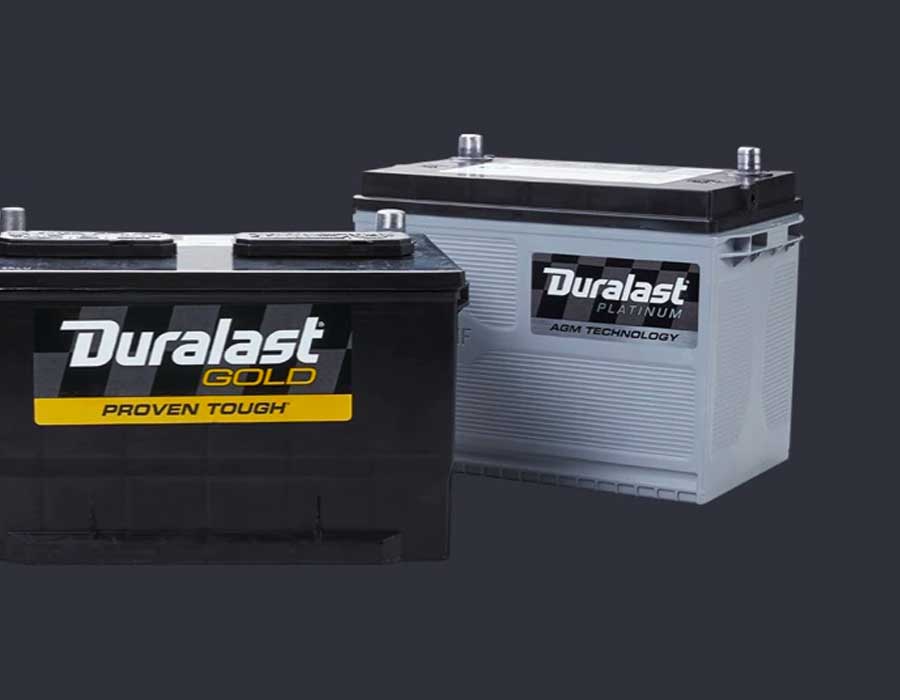 Exide
Even though it's not as popular as Clarios and East Penn, Exide is a dependable battery manufacturer. It is one of India's leading makers of automobile batteries. The company has been providing Creative packaged energy solutions for Personal and industrial applications for more than a century. Due to the low-cost labor in India, Exide's more affordable than the rest of the batteries manufactured elsewhere. Despite their low cost, their batteries are of high quality, ensuring that you get the best for your budget.
East Penn Manufacturing
East Penn is another manufacturer of Duralast automobile batteries for Autozone. They manufacture high-quality batteries, such as lead-acid batteries and other battery accessories, known for their outstanding performance. It also holds the world record for the largest lead-acid battery factory. Their assembly line produces expensive gel batteries with cold-cranking amps, which means the battery will work fine in extreme temperatures. If you're looking for a long-lasting, high-quality battery, get a battery manufactured by East Penn.
Are Duralast batteries good?
Duralast batteries are manufactured by known brands that ensure they are safe to use and are designed to be long-lasting and provide good performance. They are reliable and a good value for money. Here are some reasons why Duralast batteries are good:
Carbon Additives: Duralast's batteries are made with patented technology. They have carbon compounds that help them recharge faster while prolonging their lives. As a result, their batteries are dependable and will not be readily damaged, even when exposed to extreme temperatures.
Quality Grid and Plate Construction: Duralast batteries' grids and plates are built to the highest standards, ensuring that they last long. They are resistant to corrosion and rusting. It also allows them to charge for an extended period than most competitors. In addition, they have a thorough grid to boost voltage.
The reserve capacity: One of the most major technical parameters for car batteries is reserve capacity. It refers to the amount of time a completely charged battery can hold a charge. The significant reserve capacity of Duralast batteries is well-known as it ensures their dependability in even the most energy-demanding applications.
Leading warranty: depending on the kind of Duralast battery you purchase, there is a significant warranty. Remarkably, the manufacturer will offer assistance if there is an issue, which can ease the mind knowing the battery is covered for a long time.
Types of Duralast batteries 
Duralast batteries come in various shapes and sizes. In addition, some battery varieties have higher-quality materials and construction, resulting in extended battery life. Here are the types of Duralast batteries available:
Duralast: This budget-friendly battery can power heavy-duty applications and is reliable in an emergency. With vibration protection and long battery life, it is suitable for automobiles. It has adequate starting power to get you on the road even in challenging situations. This battery performs better because of the high-density paste formulation and lasts longer. However, it has a standard two-year warranty.
Duralast Gold: this battery offers a three years warranty and has a sturdy construction. In addition to the excellent warranty, Superior materials are used from the inside to the outside. The battery is corrosion-resistant and will not rust. It also contains a high-density paste, which contributes to its cycling performance. It also outperforms traditional batteries since it contains more lead plates, making it ideal for heavy-duty applications. This battery will keep up with high-demanding electrical components and has minimal self-discharge. With proper maintenance, the battery can last up to 5 years.
Duralast Platinum EFB: this battery is suitable for any high-powered vehicle. The battery is equipped with cutting-edge technology to power some of today's most advanced electrical applications. It assures seamless operation by offering better performance with the help of the carbon additive. It is long-lasting, fast recharging, and vibration-resistant. However, it only comes with a three-year warranty.
Duralast Platinum AGM: The battery is made with AGM technology and has a better seal. It's vibration-resistant, spill-proof, and comes with various mounting options. One of its best features is that it is maintenance-free. Because of its high CCA, it performs well even at extremely cold temperatures. It's the ideal automotive battery for automobiles with a lot of electronic equipment. It also has double the cycle life and recharges faster than any other brand. This battery also comes with a three-year warranty.
Duralast warranties
Duralast batteries are considered reliable, so they come with a free replacement warranty. The guarantee is valid for two years from the date of purchase. If you have a problem with your Duralast battery, you are entitled to a replacement. Duralast also offers warranties that offer help up to three years on some of its batteries.
Duralast batteries usually last 3-5 years before being replaced, but proper maintenance can last longer. However, Duralast offers credit notes for users with expired warranty periods. The credit can be used when getting a new Duralast battery.
Top Duralast batteries
Here are some of the top-performing Duralast batteries:
Duralast 51R-DLG Car Battery: The battery is cost-effective and produces more than enough power. It's a small, lightweight battery that everyone may use. This engine has 625 cranking amps and 500 cold-cranking amps, which exceeds some expectations. It will easily start the car even in extreme temperatures. It also has a durable build and runs on 12-volt for efficiency and long life. It has a reserve capacity of around 85 minutes. Through the discharge-charge cycle, it can hold a significant quantity of charge. It is made of a high-impact-resistance polypropylene body that is vibration-resistant. 
Duralast platinum battery 35-AGM 650 CCA: The battery is a high-quality, cost-effective battery that gives excellent power. It weighs 39 pounds, which is about average for AGM batteries. It boasts an impressive 810 cranking amps and 650 cold-cranking amps, making it ideal for cold morning starts. It has a 100-minute reserve capacity and has good efficiency at 50 amps-hours. It is suitable for cars that require a stable energy supply because of its dependability, durability, and efficiency. It also reduces self-discharge and recharges more quickly. It has the necessary start-up power as well as deep cycle capacity. Its sturdy frame can withstand any tremors. It also has a leak-proof feature and has a warranty of 3 years.
Duralast Gold battery 124R-DLG 700 CCA:  It's one of Duralast's top batteries. The impact-resistant polypropylene body of the battery helps to reduce vibration impact. Its high cranking amps are a great choice for a cold morning start. Duralast is engineered to deliver optimal cold crank amps and a 120-minute reserve capacity, which exceeds some vehicle specifications. The battery is designed to provide the necessary starting power and a durable build for long life and reliability.
Duralast Gold H7 DLG Battery: It is appropriate for automobiles power demands because it is equipped with lead plates. This battery has a Reserve capacity of 140 minutes and a CCA rating of 800. The battery has a vent cover that prevents acid from spilling out. It is also quite robust, making it an ideal choice if you frequently drive your vehicle off-road. The presence of more lead plates in these batteries aids in the production of greater power available for the car.
Conclusion
Duralast batteries come in various sizes and shapes, but they are all known for one thing: their dependability. You can expect excellent performance in multiple situations, from ordinary to premium batteries. They're made of sturdy materials and cutting-edge battery technology for long-lasting power. Although AutoZone owns and distributes Duralast batteries, they are manufactured by Clarios, East Penn, and Exide. There are different types and different warranties on each battery. Before you buy any batteries, make sure they meet your vehicle specifications, and proper maintenance will help prolong the life of your batteries.