What battery is equivalent to LR621?
Due to their superior performance in various modest everyday equipment, LR621 batteries have become quite popular. The LR621 and other coin cell batteries are used in watches, remote controls, miniature toys, and other small gadgets. You can find these batteries on the market for a reasonable price. Several well-known companies now manufacture the LR621.
LR621 is an alkaline battery and has many replacements and equivalents. However, the best match is the SR621. It is almost the same as the LR621, but it is a silver oxide battery with steady voltage and high capacity. Other alternatives for the LR621 battery include SR621SW, SR60, T, SR621, SB-AG/DG, 280-34, V364, D364, 602, S621E, GP364, AG1, AG-1, L621, SG1, LR60, LR620, and more.
What is the LR621  battery?
LR621 are Non-rechargeable button/coin cell batteries with physical attributes of 6.8 mm in diameter and 2.1 mm in height. Their nominal voltage is 1.5 volts, but the voltage drops rapidly as the battery is utilized. The cut-off voltage is typically 0.9 volts. However, if these batteries are used in electronic devices, the gadget may have its own 'own' cut-off voltage, such as 1.1 or 1.2 volts; when the battery hits this level, the equipment either shuts down or begins to behave erratically. The nominal capacity of LR621/LR60/AG1 batteries is roughly 12-15 mAh. LR621 batteries are commonly used in toys, flashlights, and other devices where a steady voltage is not required.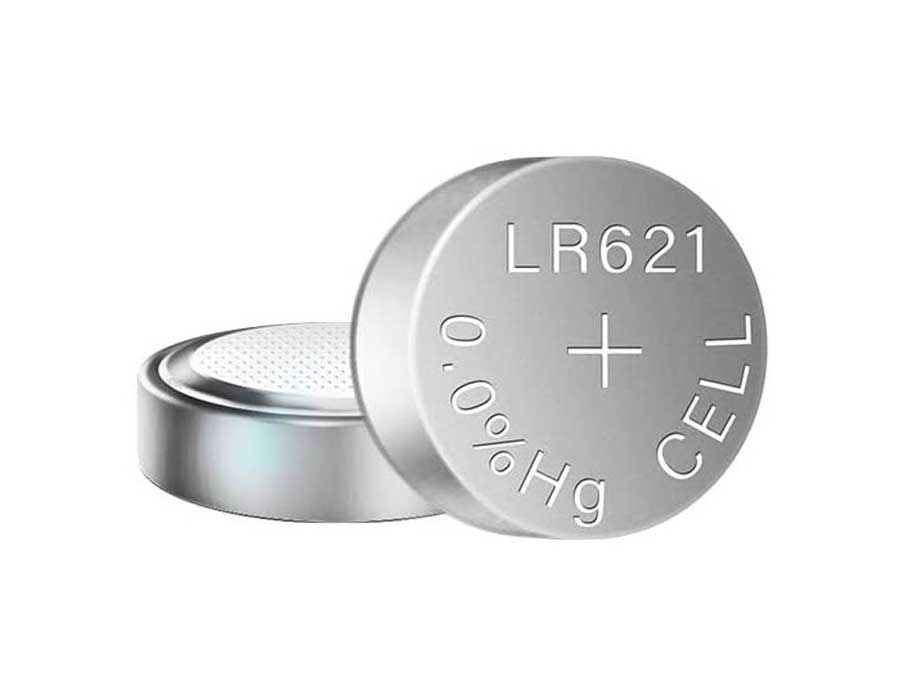 What is the SR621 battery?
Silver-oxide batteries (SR621) have a nominal voltage of 1.55 volts and a cut-off value of 1.2 volts. When the battery is in use, the voltage lowers significantly before becoming constant. The battery voltage declines sharply as the battery is being depleted, and the battery is regarded as fully discharged when it falls below 1.2 volts. The battery has a nominal capacity of 18-23(25) mAh. Silver oxide batteries have a bigger capacity, more steady operating voltage, higher cut-off voltage, and long shelf life and are slightly more expensive when compared to alkaline batteries.
The brand equivalent for the LR621 battery?
Energizer 364: It is a Silver Oxide Button Cell Watch Battery. Energizer is the world's leading manufacturer of tiny electrical batteries. The energizer Watch Electronic Specialty Batteries are available for use in precision engineering equipment and power a wide range of small electronic gadgets like Home health gadgets such as glucose monitors, blood pressure cuffs, and hearing aids. You can also utilize the battery in keyless entry systems for automobiles and homes. 
Sale
Energizer 364
Replacement cell, 363, low-drain, equivalent to SR621SW, each
Murata SR621: The Murata SR621 is a silver oxide battery made with high precision materials for optimum performance. The battery has improved storage capabilities that have been added with high-performance antioxidants. It has a slow discharge rate and provides a constant voltage. The battery has an outstanding leakage resistance by using Murata's innovative sealing structure and material.
Maxell SR621SW: The Maxell 364 SR621SW is a silver oxide coin cell with a low self-discharge for tiny devices while retaining a consistent output voltage to assure constant power. The Maxell 364 is a button cell ideal for typical household items like digital thermometers, watches, calculators, and even automobile and home keyless entry systems. The Maxell 364 SR621SW also has a 5-year shelf life, so whether you're changing a battery immediately or keeping it for later, the 364 is always ready.
Sale
Duracell D364: The Duracell D364 is a silver oxide cell with a primary goal of smaller, compact devices produced by one of the most trusted battery brands. The D364 is no exception to the rule, as silver oxide batteries are noted for their minimal self-discharge and consistent discharge voltage. The D364's 1.55V  helps power devices like Hearing aids, electronic thermometers, heart-rate monitors, and n small electronic toys.
Sale
Duracell 364 Silver Oxide Button Battery, 1 Count Pack, 364 1.5 Volt Battery, Long-Lasting for Watches, Medical Devices, Calculators, and More
POWER FOR A WIDE RANGE OF DEVICES – The Duracell 364 Silver Oxide Button battery is designed for use in a variety of compatible devices like watches, medical devices, calculators, and other electronics
LONG-LASTING POWER – Duracell high power 364 batteries were also developed to provide reliable performance for digital thermometers, laser pointers, stopwatches, and more
GUARANTEED FOR 4 YEARS IN STORAGE – Duracell 364 Silver Oxide Button batteries are guaranteed for 4 years in storage, so you can be confident these batteries will be ready when you need them
BUILT FOR RELIABLE PERFORMANCE in a wide range of high-powered devices, the 364 is equivalent to SR60, SR621W, and 363 battery types
#1 TRUSTED BATTERY BRAND – From storm season to medical needs to the holidays, Duracell is the #1 trusted battery brand
LR621 Batteries Safety Issue
It is recommended to take all necessary precautions when Handling the powerful battery, like all electrical power systems. The LR621 batteries are safe when handled with proper care. However, they may still be potentially harmful if ingested even though they don't contain dangerous pollutants such as mercury or cadmium. The LR621 batteries should only be serviced by qualified individuals who are well-versed in battery technology.
Conclusion
The LR621 batteries are Non-rechargeable alkaline cell batteries with physical attributes of 6.8 mm in diameter and 2.1 mm in height. LR621cell batteries are utilized for various applications, particularly in compact gadgets. The battery is used due to its superior performance in modest everyday equipment. It has many equivalents, all manufactured by different brands worldwide. Some of its equivalents are SR60, T, SR621, SB-AG/DG, 280-34, V364, D364, 602, S621E, GP364, AG1, AG-1, L621, SG1, LR60, LR620, and more. When used appropriately, the battery can be long-lasting while delivering superb performance.