Who Makes Napa Batteries, and Are They Good?
Napa is undoubtedly one of the most trusted brands for car batteries in America. They make their batteries from excellent materials to make the battery serve you as well as possible. Napa batteries are constructed in a way that is resistant to external damage and can work well through hot or cold weather. They have categories of batteries to fit different vehicles. The categories include-  Automotive batteries, multisport batteries, Deep cycle batteries. 
Automotive batteries: They are AGM car batteries built to last long and resist any damage from bumps and shakes. 
Multisport batteries: Designed to power recreational vehicles such as ATVs, motorbikes, snowmobiles, go-karts, and the like.
Deep cycle batteries: They are good for cars and conserve a lot of energy. Deep cycle batteries provide sustained power over long periods. 
Who Makes Napa Batteries?
East Penn Manufacturing manufactures napa batteries. They have been making batteries for Napa since 2009. They are a leading company known for batteries, battery accessories, wires, cables, etc. They are also responsible for making other batteries such as Deka battery, Rayovac battery, MK battery, Harley Davidson battery, Intimidator battery, and a good number of others. 
East Penn Manufacturing was established in 1946 and has grown to become one of the USA's leading manufacturers. They are the makers behind the popular Deka battery. They ensure the safety of the environment during their manufacturing process and have maintained high standards since inception.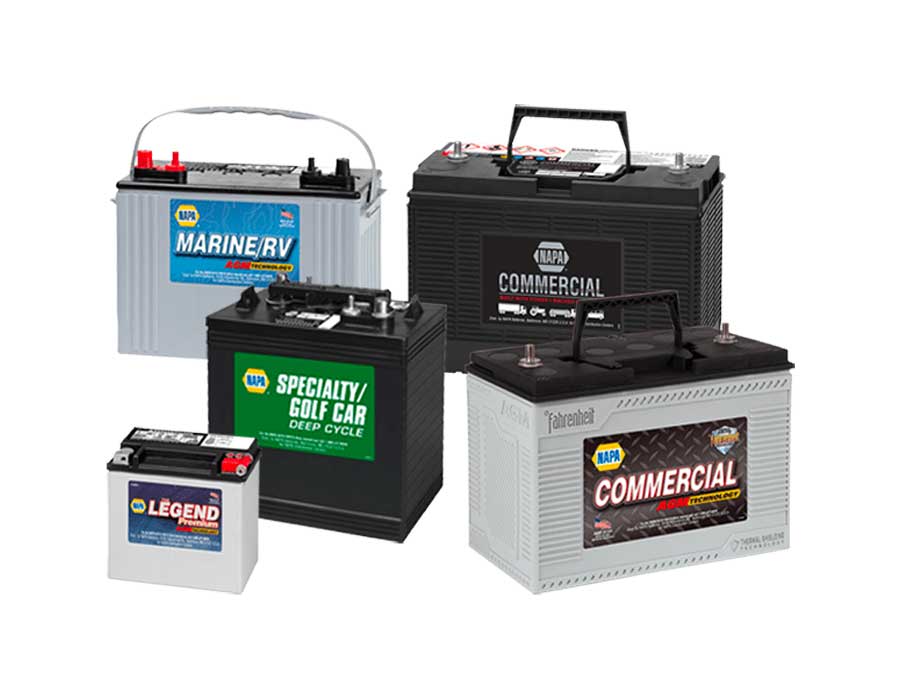 Why Should I Choose Napa Batteries?
 Solid outer construction: The casing of Napa batteries is well built to withstand damage.
High-quality materials: When high-quality starting materials are used to make a battery, you can be sure they all come together to give a quality end product. Naka batteries are made with a standard to last for long periods.
Durability: These batteries can last up to 4 years if properly maintained.
Power storage: Napa batteries store power for a long time. You do not have to bother about frequent recharging or the battery getting low so soon.  
There are many other advantages which you will see as you read on. Each Napa design has its unique quality; they have four designs that have different features depending on what your engine needs.
Napa Battery Series
– Napa Power.
– Napa Legend.
– Napa Legend Premium.
– Premium AGM battery.
Napa Power Battery:
This comes in a maintenance-free design with a flush cover that prevents spilling. It is very easy to install, with handles for easy lifting and settling down. It has a high reserve capacity for long use. 
Pros: 
Easy to install.
High start power.
Low maintenance battery.
Pocket-friendly pricing.
Durable if properly maintained.
Compatible with a variety of cars.
   Cons:
It can quickly weaken if exposed to extreme usage.
Napa Legend Batteries:
This series is made with computer-aided technology. It is a high-power series suited for vehicles that demand high power for lots of accessories. It is easy to carry and let down, thanks to the handle. The flush cover prevents spills, and it is low maintenance. 
Pros:
Heavy starting power and performance.
Easy to install.
Less worry about spilling.
Easy to carry.
Low maintenance.
High reserve capacity.
Cons: 
Has specific cars it is compatible with.
There is also the Napa Legend Premium battery that is designed for extreme temperatures. It has a great starting performance and lasts really long.
Napa Premium AGM Battery:
AGM batteries, that is, Absorbent Glass Mat batteries, are an advanced version of the traditional lead-acid batteries designed to meet the electrical needs of recent vehicles. They are sealed and highly resistant to damage through vibrations, thanks to their polypropylene frame. It has high starting power and recharges faster than most batteries. 
Pros:
Easy to install.
Resistant to damage through vibration.
Sealed to prevent spill.
Lasts long.
Resistant to external damage due to its sturdy casing.
It has the best performance of the series.
Value for your money.
Cons:
Where Can I Buy Napa Batteries?
It is quite easy to buy napa batteries, either from their website or nearby stores. You can use their online battery selector tool to find the battery that best suits your car model. After successfully placing your order, you can pick up your battery at any NAPA auto store close to you. They also offer installation and replacement services for customers.
Tips For Choosing a Suitable Car Battery
When choosing a car battery, there are important factors to prioritize. Batteries are designed differently to serve various purposes, here are some tips to guide you in making a choice:
– Battery size:
You must choose a size that is compatible with your car for easy installation and to prevent looseness. You can check your car manufacturer's manual for details on the appropriate battery size for your car, usually known as group size. Group size is the industry standard battery size that takes to account the length, width, and height of the battery, sometimes including the polarity. Polarity is the position of negative and positive terminals on a battery.
– Reserve capacity:
This is the time measurement of how long a fully charged battery can sustain a given load- usually 25 amps in an 80 degree Fahrenheit environment before full discharge. A high reserve capacity helps a lot in cases where the alternator is faulty, or when you forget to put off the lights.
– Cold-cranking amps:
This is the measurement of a battery's ability to start at very low temperatures. If you happen to live in cold regions, look out for batteries with a good CCA. The average range of a good CCA is about 350 to 600. For heavier vehicles, it is higher.
– Polarity:
Polarity is the position of the negative and positive terminals on the battery. The terminal to take into consideration here is the positive terminal. To prevent a short circuit, the positive terminal should be positioned in such a way that it does not come in contact with the metal body. A short circuit weakens and could eventually damage the car battery.
– Maintenance:
Zero maintenance batteries are the most convenient, due to their tight sealing there is no fear of spilling. Low maintenance batteries are not completely sealed. They have removable caps for occasional refills.
– Warranty:
A good warranty plan is an indicator of the potential life span of a battery. Napa offers a free replacement warranty period of 18 to 36 months. Do well to check the terms and conditions that apply to the warranty.
FAQs
How long do Napa batteries last?
They are quite durable, lasting up to 4 years if maintained properly. Multiple factors affect battery life span, such as temperature, maintenance routines.
How does the Napa warranty work?
Warranty plans vary for each battery series. The general free replacement warranty period is up to 24 months. Warranty however does not apply to damage caused by maintenance, abandoned batteries, untested or poorly tested batteries, discharged batteries.
How do I know when my battery is due for replacement?
A simple popular sign of a dying battery is dim headlights. Other signs include cranking, clinky sounds when trying to start the car, electrical issues, etc.
Does Napa offer installation services?
Yes. Simply visit a Napa AutoCare center to get your battery newly installed or replaced. They also collect old batteries for recycling. Installing your battery is pretty easy and you can do it yourself by following these steps:
– Safety tips:
Wear gloves when working with batteries, go through the manufacturer's manual for precautions, protect your eyes with safety goggles, avoid fires by keeping metal tools away from the terminals and keep a fire extinguisher nearby.
– Clean the battery tray:
Use a battery cleaning spray or a mixture of baking soda and water to clean the tray. Rinse, and wait for it to try before installation.
– Clean corrosion from the terminals and cables:
Using a soft brush, clean the terminals and cables with a mixture of baking soda and water. Allow to dry and coat it with anti-corrosive battery spray to prevent future corrosion.
– Carefully place the new battery into the tray:
Make sure the positive and negative terminals are correctly aligned and let down the battery carefully. Reattach and tighten the positive cable first, and then tighten the negative cable.
– Complete installation:
Double-check to verify that you have properly installed the battery and close the hood of the car carefully.
How are AGM Batteries Different from Standard Batteries?
AGM batteries (Absorbent Glass Mat batteries) last longer than the traditional lead-acid battery. Thanks to their low self-discharge rate, they can last up to 7 years, while lead-acid batteries last for about 5 years. They are maintenance-free compared to flooded batteries because they are sealed to prevent spills. They are more expensive but are very good value for your money.