Does The Vivint Doorbell Use Batteries, Or Is It Hardwired?
Vivint doorbells are smart doorbells that use advanced technology to operate. A doorbell is a device you ring to let those inside a house or building know you are at the door. 
To take the simple device up a notch, smart doorbells have extra features aside from just ringing. Most smart doorbells have a camera that helps you see who is at the door without getting up through your smartphone, tablet, or device.
Vivint doorbells use batteries that can be removed and replaced anytime, meaning they are not hardwired, so you do not have to drill the device into your wall. The battery tray is located under the sensor and is easy to install.
Features Of a Smart Doorbell 
Smart doorbells have most of these features, which include:
Motion sensors to detect if someone is approaching your door before even getting closer
Audio communication feature to help you communicate with the person at the door without having to go to them
Doorbell cameras equipped with infrared to identify who the ringer is or any activities happening at the door during the day or at night
Clear HD quality for easy identification
You can record or take snapshots of activities happening around the door for security, especially.
Two-way audio feature to answer the door and get feedback without having to open it.  
Your motion sensors can send notifications to your smartphone; this is useful when you are expecting a delivery package.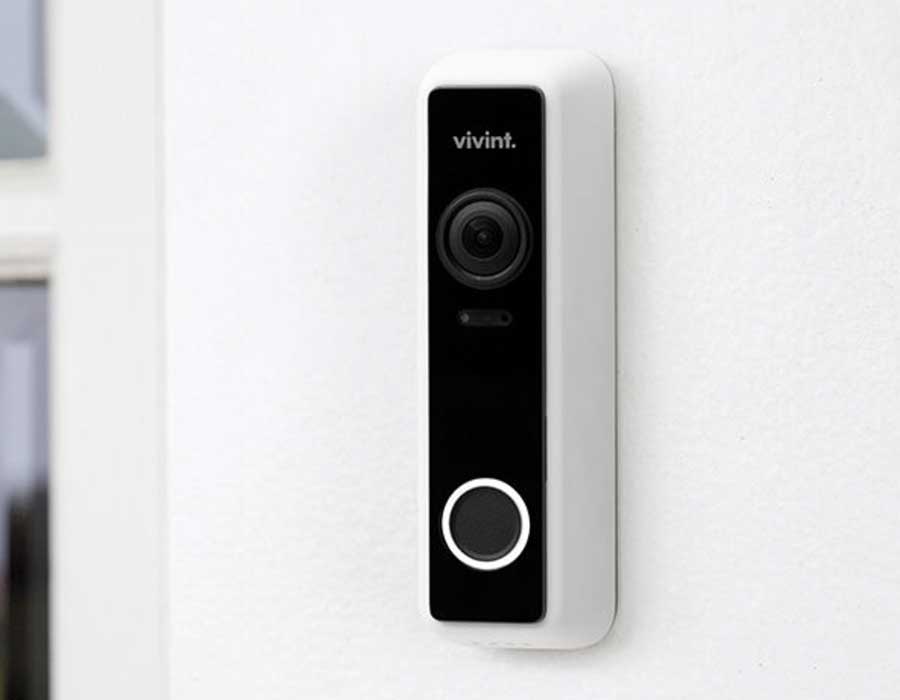 What Are the Special Features of The Vivint Smart Doorbell?  
Smart Notification 
The smart sentry mode activates the LED light in the camera and rings a sound through the 65db speaker to notify you of someone approaching your door.
Zoom-In Capability 
The Vivint smart doorbell camera is a 1080p camera, which is good quality. You can even zoom in to have a better view of what is going on at your door. It is useful for someone standing far away, and this feature works just as well at night.
Easy Integration with Other Devices 
You can use your Vivint smart doorbell along with other devices seamlessly for a better experience. You can link it to your smartphone, tablet, or other devices. 
Day And Night Vision 
The Vivint security system camera gives a clear view during the day and at night; therefore, you can easily monitor the door 24/7. The device has two LED sensors that produce infrared vision at night or when it is dark. 
Smart Lock 
This feature lets you lock and unlock your door to strangers without having to get up; just do it from your smart device. It works with your garage door too. 
Smart AI 
Your Vivint doorbell can work with home AI systems such as Alexa and Google Assistant. Even without operating, it uses voice recognition to receive instructions from you and carry out just that. 
Do Vivint Door Bells Use Batteries? 
Vivint doorbells use batteries that can be removed and replaced anytime, meaning they are not hardwired, so you do not have to drill the device into your wall. The battery tray is located under the sensor and is easy to install. Vivint smart doorbell uses two units of CR2032 batteries. 
The CR2032 battery is a common non-rechargeable battery that uses lithium-ion chemistry. The 3-volt CR2032 batteries are composed of a Lithium anode and a Manganese dioxide cathode. It is also known as a lithium coin, and the IEC designated code CR2032 carries a specific meaning. 
Sale
The letters refer to the chemical composition and shape of the battery; that is, C means lithium chemistry, and R means rounded shape. The numbers refer to the dimension in terms of its diameter (20mm) and height (3.2mm). 
These coin batteries have a long shelf life and are resistant to adverse temperature changes. It is very reliable, light, durable, and easy to use. It has a low self-discharge rate of less than 2% a year. The coin cell battery can serve you up to five years, so you do not need to worry about constantly replacing it, making it very cost-effective. 
How To Replace Your Vivint Doorbell Battery (Step by Step)
The need to change your Vivint doorbell battery may arise due to an old battery, worn-out battery, or battery damage. It is very easy to do and quick. This process only takes less than five minutes. 
Disable the device by long pressing the shield icon and then dragging it down. You will be required to input your pin, after which the system will be disabled.
Use a flat head screwdriver, a coin, or a card to remove the cover. You can also do this with your fingers but hold it properly.
Turn the device over and locate the base of the panel, where the battery is located. 
Push out the battery from the right side, and when it pops out a little, remove it completely with your finger. 
Insert the replacement battery, making sure that the positive side faces upwards. You can identify the positive side by identifying the insulated and metallic parts. The insulated part is the negative terminal, while the metallic side is the positive terminal.  
Gently put the cover back in place, ensuring the notches align to secure the battery well. 
Confirm it is working by testing the device with your door by opening and closing it. 
What Does Hardwiring a Doorbell Mean? 
Hardwiring is the process of physically connecting or wiring a device in the household wiring. It does not need to be plugged in, and one would have to drill holes to take out the device. It is simply a fixed connection integrated with the house wiring pathways. Some cons of hardwiring include difficulties in making modifications due to the arrangement of circuit wires and complicated installation procedures. However, it has its advantages, such as low maintenance costs, being easy to use, and being more secure than easily detachable ones. 
Final Thoughts 
Smart doorbells are modern technology that makes it easy for you to control what goes on around your house safely and easily. Investing in one and properly maintaining it is a good idea. They are reliable, durable, and easy to use. CR2032 batteries can be used in other home appliances such as cameras, thermostats, and emergency lights.