Best Group 25 Batteries To Buy
Group 25 batteries have a compact design, and normally these batteries have a dimension of around 9.1 inches (L) x 6.9 inches (W) x 8.9 inches (H) — as declared by the Battery Council International (BCI).
Moreover, these powerful batteries are suitable for cars as well as for marine engines. So, if you were thinking about replacing your existing battery with a Group 25 Battery, you're going on the correct path.
Having said, the only thing that will bother you in this process is that you will find plenty of brands on the market, each one claiming that it is the best, and there are chances that you can get confused due to the abundance of choices.
But don't worry, we are here for you! Our experts spent hours analyzing and comparing different batteries to figure out the perfect one and lastly came up with this list of the best Group 25 Batteries to buy in 2021.
Best Group 25 Batteries Our Top Picks:
| Product List | Buy From |
| --- | --- |
| Odyssey 25-PC1400T Automotive and LTV Battery | Amazon |
| Optima Batteries 8025-160 25 RedTop Starting Battery | Amazon |
| Optima Batteries 8042-218 D75/25 YellowTop Dual Purpose Battery | Amazon |
Odyssey 25-PC1400T Automotive and LTV Battery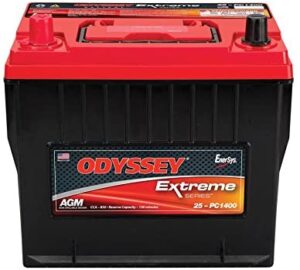 Product Features:
Higher Cold Crank Amp up to 900.
Limited three and 4-year replacement warranty.
The longer service life of up to 10 years.
Delivers higher and consistent power for more extended periods.
Features highest recharge efficiency on the market; 100 percentage recharge in less than 6 hours.
Non-spill able design allows you to mount it in any position.
Resistant against impacts, shock, and mechanical vibration.
Our Review:
At the top spot, we have the Odyssey 25-PC1400T Automotive and LTV Battery. It provides you smooth access to rapid recovery, great starting power, and outstanding deep-cycling abilities.
In the modern era of technology, cars have many demanding accessories and appliances that have become necessary for most of us. And as we know, the more electronics in your car, the more power it demands. And that's where this Odyssey 25-PC1400T Automotive and LTV Battery stands out from the rest.
For this purpose, it includes pure virgin lead plates that provide wide coverage and, ultimately, more power and energy.  Another benefit of this Group 25 battery is that it has a longer life span than other batteries. Further, it is well-suited to use with a range of vehicles, including cars, modified vehicles, off-roaders, and 4×4 jeeps.
The evergreen AGM design is highly durable and spill-proof. The unit is also resistant to corrosion; hence it delivers incredible conductivity. When comparing this AGM battery with spiral-wound batteries, the difference is huge and enables us to say it is the best. Lastly, this Odyssey battery features much better reserve capacity than the other premium batteries on the market.
Optima Batteries 8025-160 25 RedTop Starting Battery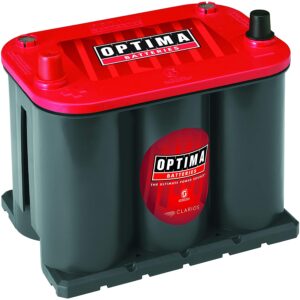 Product Features:
Features 720 Cold Cranking Amps.
Measures around 10 5/16″ x 6 13/16″ x 7 5/8″ tall and weighs only 39.5 pounds.
The battery's reserve capacity is up to 90 minutes.
Fifteen times more shock and vibration resistant.
C20 Capacity is 44 Amp-hour.
Our Review:
Next comes the reliable battery from Optima. This 8025-160 25 Redtop Starting Battery offers satisfactory performance even in harshest conditions. Another prominent attribute of this Redtop Optima battery is its high cranking power. The manufacture understands this need and ensures that this Group 25 Starting Battery delivers just that and when you need it the most.
Its immense power, leak, and spill-proof construction, and trustworthy starting capability make it the first choice of common users as well as off-roaders and hot rods. With this Optima Redtop battery, your vehicle will enjoy clean power as it includes an exclusive Spiral Cell design that ensures that you and your beloved remain safe from any unforeseen incident.
Further, the battery is also safe for the environment. No one likes to replace the battery within a few weeks or months, so people prefer the unit that has a long shelf-life. In this aspect, this Redtop Optima battery shines yet again, and the durable construction guarantees that you will use it for many years.
Optima Batteries 8042-218 D75/25 YellowTop Dual Purpose Battery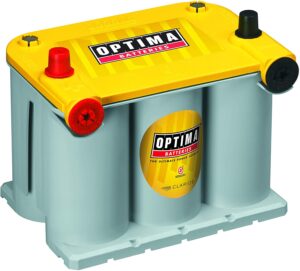 Product Features:
620 Cold Cranking Amps and measures around 9 5/16″ x 6 13/16″ x 7 5/8″ tall.
Reserve capacity is up to 100 minutes for optimum performance.
Well-suited for harsh weather.
A new and improved design makes it resistant to vibrations and shocks.
Our Review:
Optima 8042-218- D75/25 Yellow Top battery is the best Group 25 battery that offers immense power for your vehicles. You can also use this durable battery in other accessories such as hydraulics, High-performance stereo or AV system, and running lights.
What makes it different from the rest is its innovative Spiral Cell design and delivers a clean and solid power source. This Optima D75/25 YellowTop battery is also best for seasonal uses as it has a low self-discharge rate. In simple words, you can use it for seasonal vehicles without charging it regularly, and it works flawlessly in freezing temperatures.
Another thing that buyers liked in this Group 25 battery is its capability to deliver extraordinary performance for cars that have many appliances and requires high power. Lastly, due to Spiral Cell design, it is spill-proof, and no need to worry about your loved ones or environment.
Conclusion:
Group 25 Batteries are good for trucks, SUVs, hot rods, and street chairs. Before you buy these above models make sure to check terminal type and terminal orientation to prevent damage which can be caused by shocks. The above reviewed Group 25 Batteries batteries are the most popular on the course and You can choose one as per your need and budgets as well.