Who Makes Members Mark Batteries?
Members Mark batteries are long-lasting batteries with one of the lowest prices globally. They do not manufacture car batteries, but the ones they manufacture are said to be durable and offer excellent performance. Even though many people use the battery, many do not know the brand that manufactures them. 
Energizer is the official manufacturer of the members mark batteries. The batteries are distributed by Sam's Club, a subsidiary of Walmart. Members mark manufactures different types of battery fit for various purposes. Members mark batteries are often sold in bulk, with some of them containing as many as 48 batteries. 
Member's Mark batteries have a 10-year shelf-life guarantee and deliver the power you need to keep your devices running. This bulk pack of 48 batteries is an excellent value, making it ideal for use in homes, schools, businesses, and other settings. These Double-A batteries also provide up to two years of leak resistance in fully charged batteries. The batteries are thoroughly tested and meet the highest quality and performance criteria before being released to the market.
About the manufacturer
Energizer Holdings Inc is an American battery manufacturer with renowned brands like Eveready, Rayovac, and Varta. They are based in St. Louis, Missouri, and are one of the largest producers of batteries and flashlights globally, with their products available in more than 150 countries. They make alkaline batteries, heavy-duty batteries, Lithium and Titanium series batteries, and hearing aid and micro-batteries. They also sell a variety of flashlights, including safety flashlights, penlights, and industrial flashlights. Energizer is also a significant designer and marketer of automobile scent and appearance products. Focusing on consumer-based innovation, they have a range of revolutionary products, which has made them a leader in the power and portable lighting industry.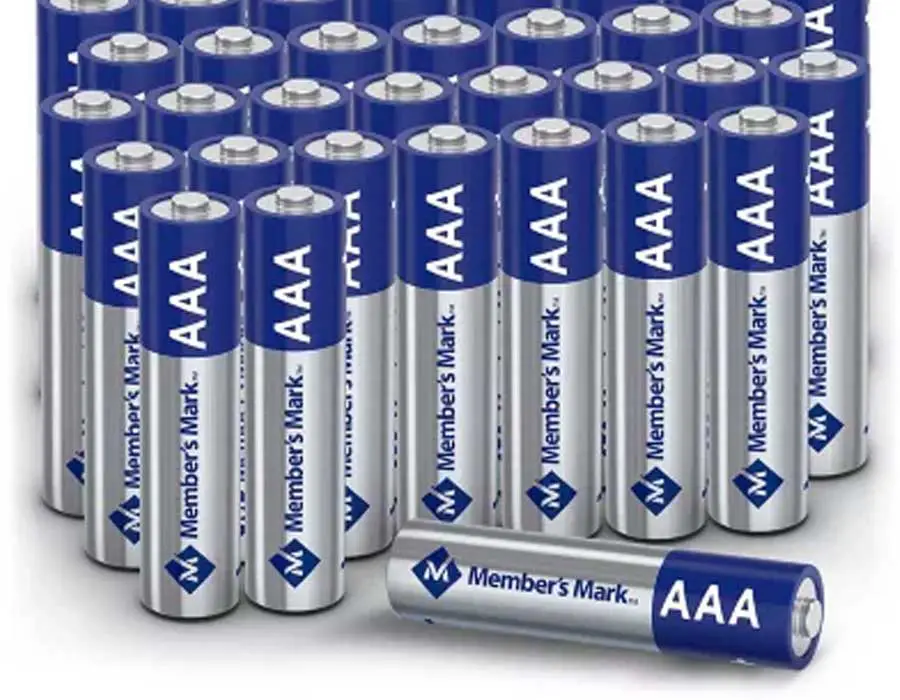 Are Members Mark Batteries good?
Members Mark batteries have received many commendations from users for their numerous qualities. Here are some reasons why Members mark batteries are good:
They have Sam's club satisfaction Guarantee
They are one of the cheapest impressive battery brands in the world
The Members Mark signature batteries have a ten-year shelf life and can be stored for a long time.
The batteries will last up to two years, and they are leakproof
They make hearing aid batteries that come in a variety of sizes and contain no mercury
Types of Members Mark batteries
Member's Mark produces a variety of batteries. Member's Mark, however, does not presently manufacture automobile or heavy machinery batteries, only small application batteries. Member's Mark manufactures the following types of batteries:
AA 
AAA 
9V 
C 
D 
Specimen batteries (hearing aids)
Like other items sold at Sam's Club, Member's Mark batteries are supplied in bulk. The member mark AAA batteries are sold in a 48 pack, and the D and C batteries come in a 12 pack. The 9V Members mark comes in a ten pack, and the hearing aids batteries in a 40 pack. 
Where to Buy Members mark batteries
Members mark batteries are available for sale both online and in-store. You can easily order the battery from either the Sam club website or Amazon. Members marks products are supplied exclusively in Sam's Club stores, and you can use the store locator on the corporate app to locate the nearest store to you. Amazon offers low prices on members mark batteries, but the disadvantage of using Amazon is that they may not have the full range of Member's Mark batteries available at Sam's Club.
Conclusion
Members mark batteries are manufactured by Energizer, one of the world's largest battery and portable lighting brands. The batteries are supplied exclusively by Sam's Club, a subsidiary of Walmart, and they also have the club's satisfaction guarantee. Members Mark batteries are one of the best for applications that require them. The batteries have a ten years shelf life and can last up to 2 years leak-free. The batteries are tested and guaranteed to meet the performance level needed. There are a variety of Members mark batteries available in different packs, and they are one of the cheapest in the world. They also make hearing aid batteries, and you can order their products online in stores.