Who Makes Rural King Batteries?
Rural king batteries are considered reliable, durable, and compatible with most automotive and related equipment. The products from this brand all have a good rating in performance. So, who makes rural King Batteries?
Rural King Batteries are made by Exide Technologies, LLC, an American lead-acid battery manufacturing company. Exide Technologies, LLC has been in the stored electrical-energy solutions for over 130 years. The company produces batteries and recycles them at any of their facility.
Rural King ensures quality products and offers low prices in comparison to the performance of the batteries, which has helped them achieve excellent ratings and a vast customer base.
About the Manufacturers
Exide Technologies, LLC is a multinational acid manufacturer that has been in business for over 130 years. The company was named the electric storage battery company when W.W Gibbs formed it in 1888. Later, the name was changed to Exide Technologies, LLC, and had its headquarters in Milton, Georgia, in the United States. Exide now has a global presence in about 90 countries producing energy storage systems. 
Some of the products manufactured by Exide technologies include automotive batteries, energy solutions for telecommunications, UPS, and solar storage units. They also help in recycling old batteries at their various facilities. Exide technologies also have a new contract with the United States Military to manufacture and recycle batteries for the next six years. However, Exide technologies also make other batteries like Bosch batteries and Exide batteries.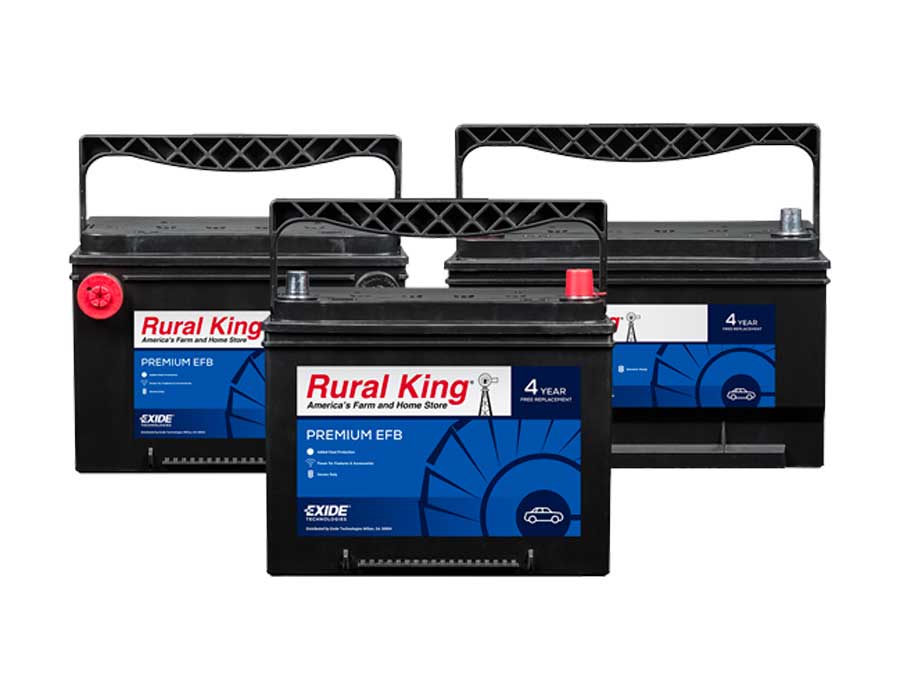 Are Rural King batteries good?
Rural King guarantees excellent products which have received numerous commendations from customers. It has been reported that Rural King authorities check the product after production and before shipment to consumers. The customer base indicates that they tend to repurchase Rural King batteries as they are reassured of reliability, long-lasting and affordable price. Also, the batteries have a 4.2 out of 5 rating on google.
The Types of Rural King Batteries available
Rural King offers different kinds of batteries with outstanding performance. Some of them are listed below:
Rural King Automotive batteries: batteries are available in various sizes and can handle heavy electrical demands. They are inexpensive batteries that are vibration resistant, do not need maintenance, and have a free replacement policy for 24 months.
Classic batteries: it is an impressive battery that comes with 650 CCA. This battery offers free replacement for the first 12 months, and depending on how it is used, it can be up to 60 months.
Commercial series batteries offer improved vibration resistance, reduced acid washing, and have 821 CCA. The commercial series are built to last and have a 12-month free replacement and a limited warranty of 24 months. 
Performance batteries:  is maintenance-free with features that ensure vehicle starter protection from vibration damage. The battery operates maximumly for up to 24 months on warranty and a 12 months replacement policy.
Golf cart batteries: Rural King does not offer many options for golf cart batteries. However, they offer one of the best batteries for a golf cart that can provide up to 20 hours' power when fully charged. It has an RC terminal that allows it to handle high amperage and is one device that can meet your needs.
Lawn Mower Batteries: there is a range of lawnmower batteries users can pick from as they have a new flat-top design for easy installation. These batteries do not break or lose acid. It has a calcium coating that prevents corrosion in wet conditions, making it maintenance-free.
Marine Batteries: these batteries can be used in various settings like at home or businesses as it is a powerful, long-lasting device. It offers outstanding performance with 27 deep cycle cells and comes with free replacement for 12 months after being purchased.
How to choose the correct Rural King battery for your automobile
You can use ways to select the correct battery, which may lead to prolonged battery usage. Here are some of the ways to choose the right battery:
Battery type: knowing the type of battery you want to use is crucial. Many Rural king batteries are available, like the AGM batteries that use SureLife Graphite Technology to ensure the highest energy capacity.
Cold-cranking amps: the CCA will determine how well your battery operates in extreme conditions. Any battery with 700 and above CCA is good.
Reserve capacity: the reserve capacity is essential as it measures the battery power. It indicates how long your battery will discharge under normal conditions.
Conclusion
Rural King batteries are among the best battery brands known for their reliability, long-lasting and low prices. The batteries have received a high rating and excellent reports as the customers boast that the battery is of the highest quality. Rural King batteries are manufactured by Exide Technological, LLC, a multinational battery company that has been in stored energy systems for over 130 years. Rural King batteries have different types that users can choose from based on their needs and may have the opportunity to replace them within a specified period. Consumers should always choose suitable batteries for their vehicles and maintain them well to enjoy long-lasting features.