Who Makes Champion Batteries?
Champion batteries are one of the popular recommended battery brands that offer reliable, long-lasting quality products at relatively cheaper prices. They are positively reviewed by customers, with very minimal criticism. There are different types of Champion batteries that cater to the needs of their respective engines. 
Who Manufactures Champion Batteries?
Champion batteries are manufactured by one of the leading battery manufacturers- Johnson Controls. They are the world's largest manufacturers, suppliers, and recyclers of automotive batteries.
However, in late 2019, Johnson Controls sold its automotive business to Brookefield Business Partners, who eventually formed Clarios LLC. Hence, Clarios LLC manufacturers champion batteries. 
Clarios also manufactures batteries for brands such as Diehard, Kirkland, Everstart, Duralast, Optima batteries, and a good number more brands. They are headquartered in Milwaukee, Wisconsin. 
Clarios works in partnership with Federal-Mogul corporation to market and promote the Champion battery brand. Federal mogul corporation is an American developer, maker, and supplier of automotive, marine, power solution products, and the like. They are headquartered in Southfield, Michigan.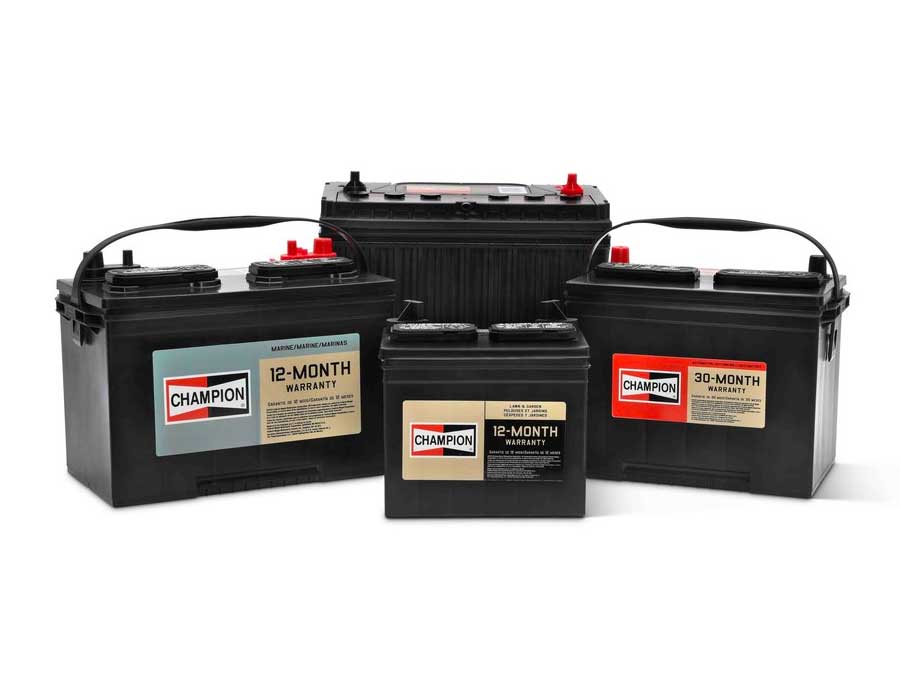 Are Champion Batteries Good? 
Champion batteries are built to be rugged in extreme temperatures. If you reside in high or low-temperature regions, champion batteries are a great choice. It also has a long-lasting battery, perfect for long-distance coverage. 
Champion Battery Categories
Automotive batteries: 
They are corrosion resistant and work efficiently over a long period before replacement is required. It is a smart choice for your car. 
Marine batteries:
Although they are designed for marine vehicles, they can also be used for land vehicles. They are adapted to deliver optimal power to motorboats, jet skis, and other marine engines. They are corrosion-resistant and durable.
Golf cart batteries: 
 They are built with powerful grid high-density materials to perform well in golf carts. They formulated grid alloy technology to ensure its durability and versatility in different conditions.
PowerSport batteries:
They are lithium-ion batteries built to withstand the high vibration from ATVs, motorbikes, four-wheelers, etc. It is a low-maintenance battery that is resistant to externally induced damage.
Commercial batteries:
With a thorough understanding of the back and forths commercial vehicles make, this battery type is built to last. It is also corrosion-resistant and low maintenance. 
Lawn and Garden batteries:
They are a perfect fit for your garden engines- lawnmowers, snowblowers, sweepers, etc. The positive grid technology is implemented to improve electricity flow for smooth operation. 
Where Are Champion Batteries Manufactured?
Johnson controls, now Clarios has production plants in countries all over the world, including China. The location of each battery brand varies based on some factors. Champion batteries are specifically manufactured in China. The company ensures the quality is up to standard regardless of whatever country it is manufactured in. 
Where Can I Buy Champion Batteries?
It is very easy to purchase a champion battery. You can buy from physical stores like Autozone auto parts stores. You can also conveniently order them online from the champion's official website. Other online stores you can purchase from are our advanced auto parts and Pep boys. 
Simply search on the website to find recommendations and input your car model number and purchase year. From the results, you will see batteries that are recommended for your car engine. 
How To Choose The Right Battery 
Here are some factors to keep in mind while making a choice of battery for your car:
There are different battery types, from the common lead-acid batteries to AGM batteries, NiMH cell phone chargers, lithium-ion batteries, etc. Lead-acid batteries are most common in today's vehicles, while AGM batteries are mostly found in electric cars or hybrids. 
This is the time measurement of how much load a battery can sustain before the voltage drops. You want a high minute rating with a lot of amp-hours. 
This is how much a battery can perform before it begins to lose efficiency. It is calculated in amp-hours. 
This is the measurement used to define a battery's ability to start in cold weather. Not all batteries are suitable for every temperature; if you work in low-temperature areas, do well to go for batteries with low CCA.
Champion warranty ranges from 6 months to 48 months, depending on the battery type. 
Car automotive batteries: 30-48 months with free replacement 
Lawn and Garden batteries: 12 months free replacement warranty
Marine battery: 12 months with free replacement 
Commercial batteries: 12 months with free replacement 
PowerSport batteries: 6 months with free replacement 
Golf Cart Batteries: 12 months with free replacement 
FAQs
Are champion batteries expensive?
They are very affordable compared to other batteries on the market. For their price, they work so well, so you get great value for your money.
How do I know my battery needs replacement? 
When your car begins to show the following symptoms, it may be due to a change. The symptoms are:
Dimming of the headlights 
Clicking sound when trying to ignite the car 
Slow engine crank
Engine begins to wane during warming
Issues with electrical accessories in the car
How long do champion batteries last?
Champion batteries can last up to four years if properly managed. They are quite rugged and built for durability.
What is the Positive Grid technology? 
This technology allows up to 50% more flow of electricity for better connectivity. It provides full utilization of electrical power. 
How can I claim my warranty? 
You can claim the warranty using the sticker where the manufacture date is written. The sticker is usually stamped at the back of the battery casing. Ensure to keep it for when you need it. You can simply claim the warranty on their website. 
How can I maintain the battery?
They are low-maintenance batteries, so you do not need to do much. Refilling is not required because of the AGM zero spill design. Simply clean the casing and terminals to prevent corrosion. 
Are AGM batteries good?
Yes, they are better than the traditional battery types. They are an advanced version of the lead-acid battery. The full meaning of AGM is Absorbent Glass Mat. This AGM holds and absorbs the acid to prevent it from flowing. The plates are tightly pressed into each cell, which is an advantage for longer life and minimal gassing. AGM batteries are perfect for recent vehicles, fulfilling their electrical needs and requiring no maintenance, thanks to their no-spill design. They are quite expensive relative to other batteries but worth the price. 
Pros of AGM batteries 
Perfect for demanding conditions 
Works well in harsh climates
Quick recharging and longer life cycle 
Resistant to damage caused by vibration 
No worries about battery spilling 
Two times more durable than standard flooded batteries
Handles high electrical demand
Little to no maintenance required 
Cons of AGM batteries
Quite expensive compared to other batteries
They are sensitive to overcharging and high voltage. 
Are AGM and Gel batteries the same?
AGM batteries use fiberglass, while gel batteries or gel cells use electrolytes in gel form. Gel cells are also spillproof and much lighter in weight due to the small quantity of electrolyte it uses. Between them both, AGM is much preferable as a starter battery. 
What is a deep cycle battery? 
A deep cycle battery is based on the thickness of the plates, and it is designed to supply sustained power over a long period until it is 80% discharged. They are ideal for marine applications, recreational vehicles, renewable energy powering, etc. There are two types of deep cycle batteries they are flooded deep cycle batteries and maintenance-free deep cycle batteries. As the names imply, flooded deep cycle batteries require refilling and regular monitoring, while maintenance-free deep cycle batteries are spillproof and require no maintenance. 
How To Install a Car Battery
This step-by-step guide will simplify battery installation for you. It is pretty easy, and you can do it yourself! Although it is best to use an expert service, it is a good idea to know how to do it without an expert.
Before installing, keep in mind the following precautions to avoid any damage or hazard:
Remove all metal or jewelry such as earrings, watches, rings from your body
Keep a fire extinguisher nearby
Use safety gloves and goggles when working on a car battery
Avoid switching the negative and positive terminals to prevent electric issues.
Avoid touching uninsulated parts with your bare hands or metal 
Use anti-corrosion grease on the terminals to prevent further corroding. 
Now, to the steps for installing your battery: 
Step 1- Clean the battery tray and terminals. Use battery spray or a simple mixture of baking soda and water to clean any corrosion on the tray. For the terminals, use the baking soda paste and a toothbrush to clean off any corrosion and rinse. Allow drying before proceeding.
Step 2- Carefully set down the car battery, ensuring that the terminals are well aligned.
Step 3- First, connect the positive clamp to the positive terminal, and tighten the nut and bolt on it.
Step 4- Attach the negative clamp to the negative terminal and tighten properly.
Step 5- Reattach the hold down, ensuring it is in place. The hold-down prevents damage caused by vibrations during vehicle movement by holding the components together.