Where Can I Get a Car Remote Battery Replaced?
Key fobs perform more than starting and unlocking a car. They serve as a product for easy access to your car, easy start and a  way to prevent theft. Unfortunately, the batteries that these key fobs use can die and must be replaced. Many car owners are puzzled about where they might get a replacement for their key fobs.
You can buy fob batteries at any dealer near you. Numerous online stores sell car key batteries that will be delivered to you. Many auto shops and battery businesses sell key fob battery replacements.
Types of car key remote
A car fob with Key: This car fob became common in the late 1990s. At the touch of a button, these devices may open or lock the car and arm an alarm. The key must be placed into the ignition to start the vehicle. The metal key and the remote are sometimes combined into a single switchblade-style item. This key fob is still used in pickup trucks and SUVs.
A single fob for access and start: You've most likely seen these fobs before. Even though these fobs don't appear to have a key, they do. Some are rather appealing, such as the leather-wrapped fob that comes standard on some Volvo cars. These key fobs are easy to take around and are used for car access and starting in most circumstances.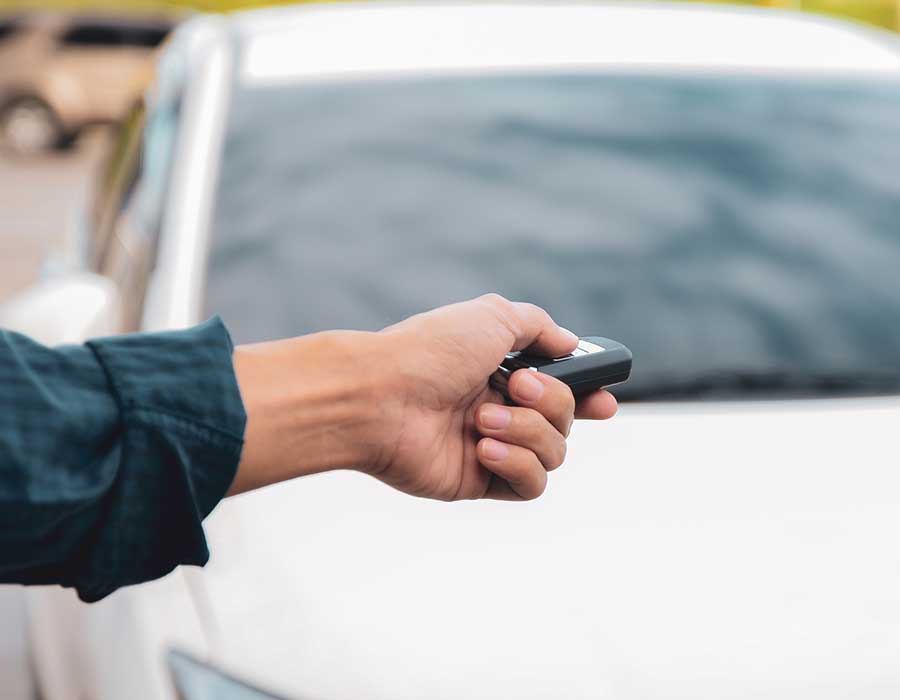 Where to buy a Car Key Battery Near you?
A car key battery replacement is available at any close car dealer, especially those that sell your precise vehicle model. If you can't find a local dealership to assist you, you can get a new vehicle key battery online and have it delivered straight to your home. You can also find a replacement battery from a battery store or an auto parts store like AutoZone. You can easily change the battery yourself by following the direction in your owner's manual, which is generally available in PDF format on the automaker's website if you've misplaced it. However, some key fobs have intricate mechanisms that differ from vehicle to vehicle. If your key fob is complicated, you may need assistance from a specialized store. 
Places to Buy a Car Key Battery Replacement
here is a list of some stores and websites where you can find suitable battery replacements for your key fobs.
Mister Minit: Mister Minit has earned some recognition in this type of business due to his experience in repairs. Mister Minit offers various choices like Vehicle keys, housing for car keys, shells, original keys, and extra emergency keys. They also provide a one-year warranty for all their keys. They provide high-quality replacement keys for all sorts of automobiles. Mister Minit is your one-stop-shop for a high-end, remote-controlled copy. For key duplication, it employs cutting-edge technology. Furthermore, Mister Minit has the largest selection of car keys that will fit a variety of vehicle makes and models. Mister Minit also provides original factory remotes and keys and high-quality items and services at a reasonable price. 
Keyless Shop: The Keyless Shop offers a wide range of keys and remotes for practically all makes and models of automobiles. Chip keys, remote keys, smart keys, and transponder keys were all cut and programmed at Keyless Shop. In their Sears branch, they perform precision cutting of key duplicates. Keyless Shop now has 16 retail locations across eight states with their cooperation with Sears. The Keyless Shop specializes in remotes and keys for all makes and models of automobiles. They can cut and configure their remote and keys to drive your vehicle using specialist tools in only a few minutes. Furthermore, this organization is known for its low costs, so you won't worry about blowing your budget to replace a vehicle key battery.
Buyabattery Shop: it is a battery business that sells automobile battery keys. Users applaud the fact that Buyabattery delivers this product right to your door. They can provide car key batteries for all makes and models of vehicles. If you wanted to change your car key batteries and get the best manufacturer key for your car, you could look inside the key fob for the size and part number. You can also double-check the information in your handbook or manual.
Buffalo Mobile Locksmith: They provide a wide range of locks and other essential services. All types of key duplication and car key replacements are available from Buffalo Mobile Locksmith. Buffalo Mobile Locksmith's most significant feature is that they can replicate your car keys on the spot. You can save a lot of money by using these instead of hiring a tow truck to a repair facility. They can supply vital duplicates for specific car models and brands. The Buffalo Team's locksmiths are all certified and well-trained. They attend to calls within 20 minutes and are available 24 hours a day, seven days a week.
AutoZone: they are a well-known automotive part and battery retailer in the United States and Canada. Autozone offers car key battery replacements,  maintenance and other related services. Your car key batteries will be gratefully replaced at AutoZone.
Advance auto part: they are a store that provides different key batteries for your unique fob. In minutes, they can change the present battery with a better battery. On their webpage, you can easily find key fob batteries. It's available to buy online and pick up in 30 minutes. They are one of the most popular online auto parts stores in the United States, and automobile owners from all across the country trust them.
Car key Express: Car Key Express is the biggest and most reputable key replacement company globally. They are the world's leading provider of car key replacement services for corporations and consumers. The company created the first unified car remote and universal car keys around the globe. They pride themselves on being the only manufacturer of customized versions of modern car keys, such as remote and smart keys. Replacement keys, remotes, remote casings, and other key accessories are available from this one-stop shop.
What Type of Battery Should You Get for Your Car Key?
Checking the battery inside the key is one of the best ways to determine what type of battery your key fob uses. When purchasing a new battery, take the old one along. If the original battery is lost, virtually all significant fobs will require at least two Li-ion or a 3V battery coin. Some websites will need you to enter the brand and model year of your automobile to identify the correct battery for your fob, 
How Long Will a Car Key's Battery Last?
The average key fob will last 3 to 4 years. Your battery is overdue for replacement when you hit the fourth year. If your car key battery is on the verge of failing, you may have trouble getting into your vehicle without using your keys.
How much does A new Car Battery Key cost?
You can get car battery keys for less than $2. The majority of automotive battery keys are only $1.5 to $1.95. The expense of replacing a car battery key is minimal. You can select the best brand, such as Energizer or Duracell.
Conclusion
Car fobs are standard these days for entering and starting your car. There are car fobs with keys associated and those without keys. Whether your fob's battery has totally died or you only need a replacement, there are a few places where you may go to get the job done. Some of them are relatively familiar and can be accessed in the neighborhood. Most car fobs use the same type of battery, but it is better to get the exact one you need either by checking the current battery in your car fob or the owner's manual. Car fob batteries are not expensive and can last up to four years. However, if you are not sure about the battery your fob uses or how to change the battery in your car fob, it is recommended to seek professional help.