How Do You Change the Jeep Renegade Key Fob Battery?
If you own a Jeep Renegade, perhaps you know how important a key fob is for the optimal functioning of your vehicle. The small metal and plastic piece upgrades your car usage by allowing automation and eliminating the need for keys.
However, a malfunctioning key fob keeps you from automatically starting your car or getting into it. You might need to replace the key fob's battery at this point to ensure it provides the comfort it is meant to.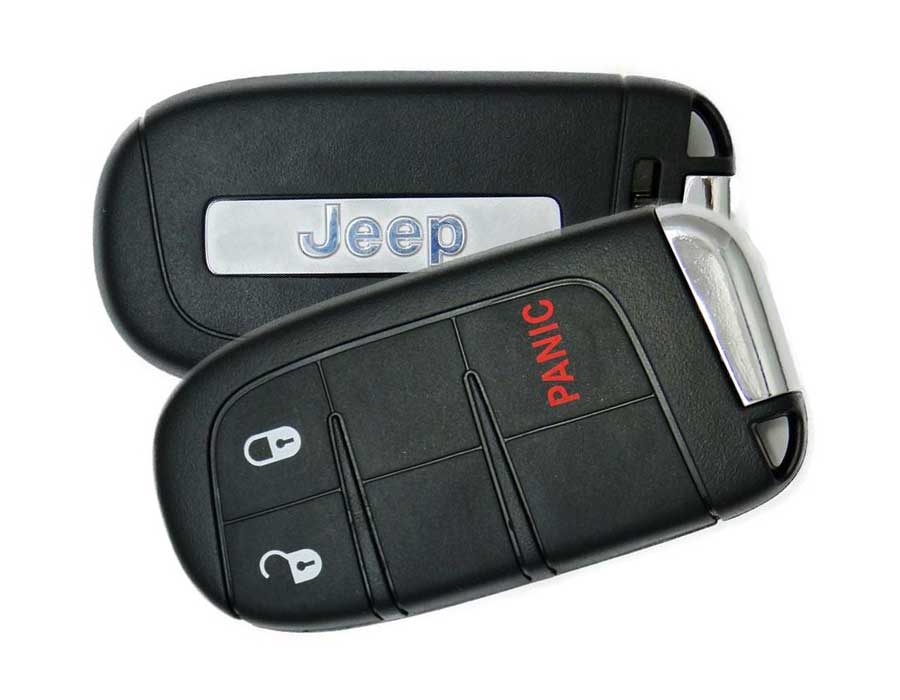 There's no secret sauce to changing the Jeep Renegade key fob. You only need to open the casing, remove the old battery and add a new one. 
Keep reading to know how to do that. 
Jeep Renegade Key Fob: Everything You Need to Know
The Jeep Renegade is an excellent Sports utility vehicle for urban drivers. It packs essential features, including: 
A robust engine that allows you to speed up in high-traffic areas
Spacious interior enabling enough room for middle-sized families and placing groceries 
A firm grip on the pavement regardless of the weather 
A striking design that outshines other SUVs 
Besides, a keyless entry system using a key fob makes Jeep Renegade an ideal fit for drivers who prefer greater convenience. This small device enables you to lock and unlock your car. 
Further, it also comes in handy when starting your vehicle. 
How to Purchase a Key Fob? 
The original key fob comes with a CR2032 3V lithium battery. You can purchase this battery from numerous places, including retail outlets, drugstores, and convenient stories. 
However, if you prefer online shopping, you'll easily find it on popular online marketplaces like eBay and Amazon. 
Sale
Duracell CR2032 3V Lithium Battery, Child Safety Features, 4 Count Pack, Lithium Coin Battery for Key Fob, Car Remote, Glucose Monitor, CR Lithium 3 Volt Cell
Recommended by Apple - Apple includes a Duracell CR2032 in new AirTag devices and recommends the Duracell CR2032 with bitter coating to help discourage swallowing
Long-Lasting Batteries Designed For Dependability – Duracell 2032 Lithium Coin Batteries deliver the long-lasting power and performance you can count on for devices throughout the home or on-the-go
Bitter Coating Discourages Swallowing – Duracell Lithium Coin batteries are the only flat coin shape Lithium Coin Batteries replacement option with a non-toxic, bitter coating to help discourage swallowing
Child-Secure Coin Cell Packaging – Duracell CR2032 3V Battery Lithium Coin battery packaging nearly impossible to open without scissors
Reliable Power – The Duracell 2032 3V Lithium Coin battery powers both everyday and essential home devices, including key fobs, remote controls, glucose monitors, thermometers, watches, toys and many more
Nonetheless, note that you cannot purchase any CR2032 battery and expect it to work perfectly for your key fob. Why? Because CR2032 labeled batteries differ in their size and voltage. 
Therefore, make sure you check the battery voltage and size before spending your hard-earned money. Apart from confirming the size, you must purchase from an authentic brand selling genuine batteries. 
A few bogus companies produce imitations that can damage your key fob. Fortunately, some tell-tale signs can help you spot the fake battery. 
Test it. If you're uncertain about the battery's authenticity, test it with a voltage meter. Original CR2032 batteries produce 3 volts. If a battery output is less than that, it's probably fake. 
Check the Packaging. Closely observe the packaging. If the print looks like the one made from a home printer and the text is bleary, it's a red flag. You need to consider buying from another brand. 
See its operation. Of course, a fake key fob battery compromises functionality. Try using the battery with the device and see if it works. 
Observe the battery. A CR2032 battery with bends and scratches is not genuine. 
Different Battery Types that a Jeep Renegade Key Fob Takes
Generally, a Jeep Renegade takes the CR2032 battery. However, if you want to confirm which battery your key fob takes, here are some ways to find it out. 
Get in touch with the dealership where you bought the key fob from. They'll provide you with information about your key fob and answer other queries you may have. 
See the manual for information about the key fob. Which battery goes into the jeep key fob will probably be written there. 
Lastly, consider opening the battery casing and see the battery yourself. The label will tell you about the battery type. However, handle the fob cautiously when opening its cover. 
How to Replace Your Jeep Key Fob Battery? 
It's not surprising that battery-powered devices need replacements time and again because they run out of power. The same goes for your Jeep key fob. 
However, you do not need to call in a professional for this simple task. Instead, a few steps are all it takes to replace the fob battery yourself. 
Hold the key fob bottom side up and find a small hole on the cover. Here, you'll insert a tool or your fingernail to release the automatic key. 
Locate a small slot next to the keyhole and open the casing using a small screwdriver or another similar tool. Be cautious when opening the cover, and make sure you do not damage the case. 
Place the key fob casing aside to get a better view of its compartments. 
Remove the battery with a small screwdriver. 
Once the old battery is gone, it's time to insert the new one. However, make sure that the negative and positive ends are placed correctly. 
Push the battery down to ensure proper placement. If you place the battery correctly, this step will go smoothly. 
Attach the cover and firmly secure it 
Now place the mechanical key in its original spot 
If you drive other Jeep models, we recommend skimming through its manual. However, the replacement process works more or less alike. 
Besides, try not to force anything during replacement. Otherwise, you may damage the key fob compartments, and you might need to buy another one. 
How to Start a Jeep Renegade With a Dead Key Fob? 
Fortunately, you can start your car with a malfunctioning key fob. You only need to place the key fob's tip on the start button and push it.
As soon as the Jeep system recognizes the fob, it'll start the Jeep. However, if you want to enjoy hassle-free trips, we recommend keeping an extra key fob and a battery for your convenience. 
Does a Key Fob Require Reprogramming After Battery Replacement? 
No, you do not need to reprogram the key fob after adding a new battery. Nonetheless, if the key fob doesn't function, check the new battery's voltage. If that doesn't work, read the instruction manual or consider contacting the dealer. 
Closing Notes 
Gadgets, small or large, need maintenance for optimal functioning. The case isn't any different for your Jeep's key fob. 
A failing battery would halt its operation and create unwanted troubles for you. 
However, you can always replace the dead battery with a few simple steps. Not only will it level up its functioning, but it'll also give you the peace of mind you deserve.