Duracell Car Battery Review
Car batteries help the car start and keep moving, and even help power the car's electrical components. While there are many options for a car battery, Duracell car batteries have stood out from the pack.
Duracell batteries are known for durability and long life. In addition, the battery can perform with maximum power even in extreme conditions.
So, whatever the need of your car may be, the battery provides reliable power in every situation. This article will look closely at the Duracell batteries, their types, features, and specs. Read on to find out more.
Are Duracell batteries good?
Duracell batteries offer an advanced car battery that provides your car with the right amount of power. They are powerful batteries that will last through most repairs and have no technical limitations when recharging.
Furthermore, the batteries have maximum cranking power to work in diverse situations and have extended battery life and high capacity. Duracell has a reputation of being in business for more than a century, and the batteries are carefully designed and improved upon to increase efficiency.  
To better understand the Duracell batteries, here are some of the reasons the battery is good:
The battery is long-lasting and gives maximum performance in any situation.
It offers Maximum cranking power that makes them suitable for adventure rides.
It is Cheap and comes with an Incredible warranty of up to five years, covering repairs, installations, and replacements.
It offers various batteries that provide reliable power for every vehicle type.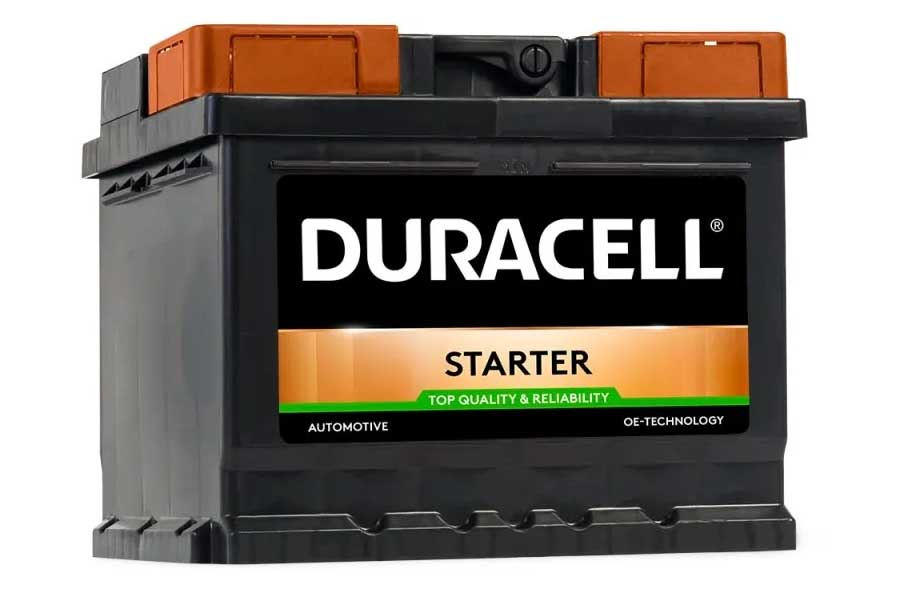 Who makes Duracell car batteries?
Duracell Inc is a company that makes batteries and other intelligent power systems. The company first originated in the 1920s through the works of Samuel Ruben and Philips Rogers. The company used to manufacture flashlight batteries but has expanded to batteries for other devices today.
Through many mergers and company acquisitions, Duracell is owned by the conglomerate Proctor and Gamble, and the batteries are produced by East Penn Manufacturing Inc. co. 
Types of Duracell batteries
Duracell offers varieties in the car batteries it produces to suit the different vehicles. Each has its specs and properties and is all quality products. Below are the types of batteries that Duracell offers:
Duracell starter batteries
The Duracell Starter battery is a premium battery with a modern standard build and offers optimal pricing and top-notch performance. The battery delivers a tremendous short boost of energy, making it reliable for starting the car while the charging system recharges the battery. At the same time, it powers the electrical components used in the vehicle. Also, the battery has advanced calcium technology as such requires no maintenance. The starter is good for drivers who don't want to worry about battery upkeeps. These batteries have a long shelf life and are environmentally friendly.
Furthermore, the batteries are equipped with four-chamber protections to prevent leaks and make the battery vibration resistant to prevent acid spillage. The batteries use advanced technology that gives an impressive cold-cranking amp, making them ideal for colder climates without limiting performance. The battery offers 12 different models with capacities ranging from 44Ah to 95Ah, and you can choose depending on your needs.
Duracell advanced batteries
The Duracell Advanced provides reliable starting and onboard power with superior safety. It has extended capacity and performs better under unfavorable conditions. The build of the battery prevents acid leakages and is maintenance-free, thereby removing worries from car users. There is an outstanding bonding of plates at the battery base to improve performance and durability. The lead-acid battery is vibration resistant which makes it safe in extreme conditions. The Duracell Advanced battery comes in 24 models with a power capacity ranging from 40Ah to 110Ah.
Duracell extreme EFB batteries
These batteries are suited to environmentally friendly cars that utilize the innovative start and stop feature. They are said to be long-lasting and provide a good cycle resistance. There are eight available models for the Duracell extreme EFB with capacities ranging from 38Ah to 80Ah. Furthermore, the batteries have carbon additives, which facilitate lesser charging time by increasing the battery power and eliminating the need for constant charging. The battery has been said to be durable and has a non-woven cover that helps prevent leaks by keeping the liquids inside the battery. The EFB stands for Enhanced Flooded battery designed specifically for medium and small cars. However, it may not be the best choice for heavy-duty vehicles due to insufficient power.
Duracell extreme AGM batteries
Most batteries start the engine, but the Duracell extreme AGM has both start and stop functions. The battery supplies the electrical components' energy even when the car remains stationary and the engine has stopped. The battery is maintenance-free using recombination technology. It has a non-woven mat that prevents spills and leakages that may result from electrolyte bonding. The AGM stands for absorbent glass mat, which works well with medium and luxury cars and offers cycle resistance three times that of a typical battery, making it last longer.
Furthermore, AGM batteries have a grid design that handles extreme vibrations. It also has improved conductivity and lateral positioning, allowing versatility and not limiting performance. Also, the battery works in areas of minimal ventilation as it has minimal gassing. The Duracell AGM extreme battery has five models ranging from 60Ah to 105Ah.
How long do Duracell batteries last?
Duracell batteries are built to be efficient, affordable, and durable. They are long-lasting with advanced features that make them functional with better performance and provide exceptional battery life. The battery is long-lasting in that it may provide over two years of continuous use without losing charge. Duracell batteries can last up to 5 years or more, depending on how it is used. Mismanagement of the batteries may shorten the lifespan to 2years.
How Duracell compare to other batteries
While Duracell is a top brand, some of its competing brands also have good batteries. The features of the brands can help you choose when you are next shopping for a battery for your car.
Duracell vs. Interstate automotive batteries
Both batteries are excellent, and they come with unique features. In comparison, Duracell seems to be the best in value for money and service quality. Unfortunately, the interstate has poor ranking and poor handling of their customer complaints in the equipment category. 
Duracell vs. EverStart car batteries
Everstart batteries are known for providing incredible power and seem very reliable. EverStart batteries have three colored tops that show diversity in dealing with different car's needs. Duracell and EverStart offer almost the exact stat in terms of power and reliability, but Duracell batteries appear to be more expensive than EverStart. EverStart offers excellent value at an affordable rate.
Duracell vs. Bosch car batteries
Bosch is a famous battery brand that offers several battery models for car users. The battery is said to have a good cracking amp which helps to start the car quickly. Bosch and Duracell seem to have similar ratings with good cranking power that can immediately start the vehicle. In addition, they are both reliable and have outstanding business reputations.
Duracell vs. Duralast car batteries
Duralast batteries are said to come in excellent conditions with sturdy construction to serve their respective purposes effectively. However, in some circles, it has been speculated that the Duracell batteries have some advanced features that make them better than Duralast batteries.
| | | | |
| --- | --- | --- | --- |
| Name  | Warranty/ guarantee | Avg life | Made in |
| Duracell Batteries | 24-60 months warranty | 4-5 years | United State |
| Interstate Batteries | 24-75 months warranty | 4-6 years | Mexico |
| EverStart batteries | 12-36 months warranty | 2-5 years | United States, South Korea, Canada |
| Bosch batteries | 24-36 months warranty | 8-9 years | United States |
| Duralast batteries | 24-48 months warranty | 3-5 years | Ireland |
Possible Duracell car battery problems
There may be some potential issues with the battery despite Duracell's impressive quality and performance. Below are some of the problems your battery may have:
Undercharging: If the alternator is not functioning correctly, it may not charge the battery more than 80% of its capabilities. The battery's active mass can become inactive, lowering the charging output.
Overcharging: Charging the battery constantly after completion can result in high water consumption and more gassing. Instead, adjust the battery charging voltage to prevent overcharging depending on the external temperature.
Cyclization:  happens when the battery suffers from a constant charging cycle and deep discharges. Being familiar with the specs and capabilities of the battery can prevent cyclization.
Deep battery discharge: draining the battery or constant discharging can shorten the battery's functional life and reduce performance. Charge the battery according to the recommended battery capacity.
How to maintain your Duracell batteries
Duracell batteries are maintenance-free, and most have a leak or spill-proof design, but the battery still needs care for long-lasting and optimal performance. Here are some ways you can manage your batteries easily:
Follow the step-to-step guide by the manufacturer on how to install the battery
Always check the battery state of charge. Extreme temperatures can have an effect on the electrolyte in the car. You can check the condition of the charge with a voltmeter.
Check the battery before charging. Do not charge a frozen battery as it may damage your battery.
Change your Duracell battery based on the recommendation of the manufacturer to enhance the car's performance.
Keep the surface of the battery clean. The battery's durability will not stop dirt and debris from accumulating on it; you can use a brush and paste of baking soda and water to clean it.
Always turn off the car engine before disconnecting the battery, and make sure you disconnect the negative terminal first. Then, when connecting the battery, start with the positive terminal and make sure all the clips are tightened.
If you are storing the battery, keep it cold, dark, and dry. Prolonged storage in the wrong place can cause the battery to wear and discharge.
Conclusion
As seen above, Duracell produces a long-lasting, durable, and reliable battery that can function in different extreme conditions. Duracell is a well-known car battery brand that produces top-quality acid spilled-free designs and offers excellent value for money. The Duracell batteries have different types with various models and compare with similar or higher ratings to top car batteries. Furthermore, Duracell offers excellent warranties that protect its users from defects in the product. The Duracell batteries are powerful and reliable, making them suitable for your car.